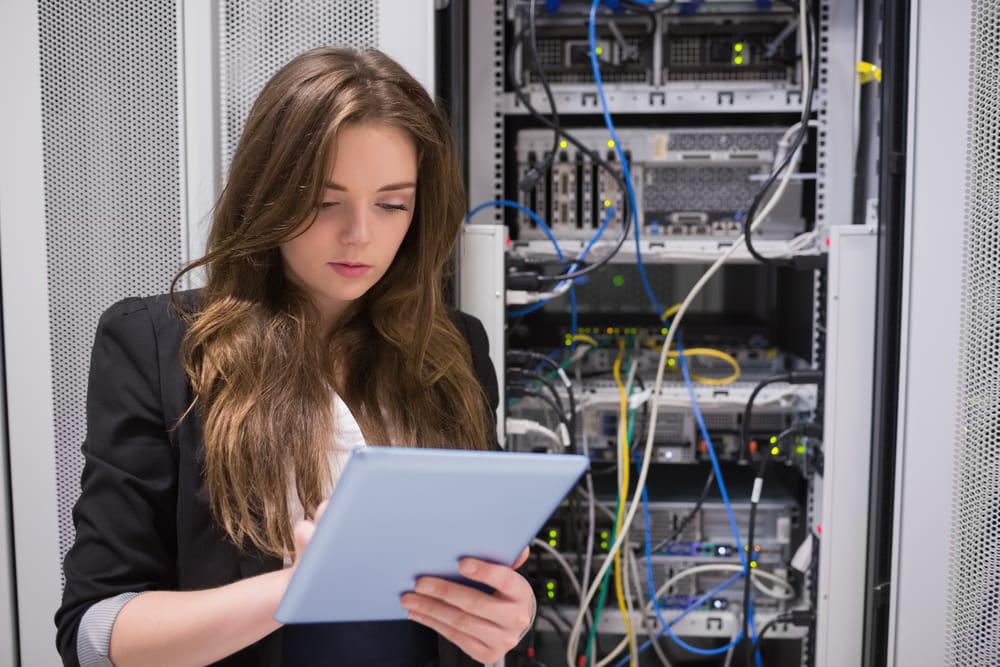 Do you enjoy working with computers?
Are you the person your friends call when they're having problems with theirs?
Do you enjoy turning a challenge into your personal project?
If so, you may want to consider training to become a computer systems technician. In this role, you'll be working with software and hardware every day and addressing new challenges on a regular basis.
What Is a Computer Systems Technician?
A computer systems technician can wear any of a number of different hats. You may also hear this role referred to by many different names, too.
These include:
Computer Support Specialist
IT Technician
Information Systems Technician
Network Technician
Help Desk Technician
However, they all refer to the same general list of responsibilities. As a computer systems technician, you will support an organization's computer network software, hardware, and operating systems.
You will be responsible for monitoring the system's overall performance, catching errors the moment they occur, and providing solutions as quickly as possible.
In short, you will play an extremely important role. Whether you work directly for your employer or for a client on behalf of an IT firm, their digital infrastructure will largely depend on your abilities.
If you think this is the career for you, then contact us today and we'll give you even more information about our certification programs and how they'll set you up for success.
A Day in the Life of a Computer Systems Technician
In a moment, we'll cover the various fields you can enter as a computer support specialist. Each role will require something different.
That said, most of your time as a computer systems technician will be spent ensuring that a company's network is functioning exactly as it's supposed to be. You'll use software to confirm this is happening and will even do some "manual" work to make sure these platforms aren't missing any potential problems.
Your job may also involve working with hardware. For example, you could be in charge of maintaining the physical elements of a client's servers or repairing computers with hardware failures.
You might also be responsible for reporting about the status of a digital network to your client or employer but doing so in layman's terms to ensure they understand. Someone who can speak both "languages" – technical and "laymen" – is a very valuable asset to these companies.
For this reason, you may also be responsible for training employees on new software or hardware. Oftentimes, this will require that you quickly become familiar with it first.
Would You Make a Good Computer Systems Technician?
If you have always enjoyed working with computers, there's a good chance that you'd also enjoy making a living as a computer systems technician.
Still, this isn't the only prerequisite for entering this dynamic field.
Although many people think of IT employees as being extremely introverted, the truth is that some of the most successful technicians are those who are great with people. As we just covered, your role may involve helping your employer better understand their system.
Another great quality to have is a love for problem-solving. If you're someone who enjoys a challenge that involves putting your mind to the test or if you've always had fun working on your friends' computer problems, this job may be perfect.
Hopefully, major problems won't become too common for you, but you can definitely expect to do well in this field if you're someone who doesn't shy away from digging into a challenge and sticking with it until you find a resolution.
Training to Become a Computer Systems Technician
Despite the importance and complexity of the role, the Computer Systems Technician certificate is designed to be completed in as few as 10.5 months.
However, during that time, your training will consist of learning marketable skills that will make you a competitive candidate in this high-demand field.
This will entail:
Learning through hands-on IT training from a through the CompTIA Authorized Academy partnership program in a computer lab.
Gaining the entry-level IT skills and training required to join an IT problem-solving department – or work for a smaller business as their go-to computer systems technician.
Completing courses designed to meet certification objectives recognized in this industry.
Receiving hands-on instruction from experienced instructors focused on making you successful.
Learning the essentials of running a server
Training in multiple operating systems including Linux and Windows
Earning your Computer Systems Technician Certificate while also preparing to sit for these other important certifications:

CompTIA IT Fundamentals
CompTIA A+ Certified Technician
CompTIA Network+ Certified Professional
CompTIA Security+ Certified Professional
Microsoft Technology Associate
Keep in mind, too, that you'll also receive a lot of training on-the-job. Once you land an entry-level position, your employer will gladly add to your resume by ensuring you understand their systems and unique needs.
So while the hands-on training you'll receive to earn your certification will set you up for success for entry-level positions, the great thing about this field is that you will always be learning more at work.
Careers for Computer Systems Technicians
There is almost an endless number of career paths you could take as a computer system technician. Given the nature of your work, there is no lack of companies looking to hire someone with this particular skill set.
Here are just some of the common opportunities available to people who have earned their certificate in this field:
Bench/Field Technicians
Computer Systems Administrator
Helpdesk Support Specialist
Information Security/Assurance Analyst (Entry Level)
Information Technology Associate
Mobile Device Specialist
Network Systems Administrator (Junior Level)
Network Technician
PC Support Technician or Specialist
Technical Field Support Specialist
Many people also combine one of the technical specialties above with industry-specific knowledge.
For example, you might become proficient as a network administrator specializing in educational environments or working for banks. This extra layer of specialization will help you differentiate yourself from others with the same certifications.
Interested in Becoming a Computer Systems Technician?
If you enjoy working with computers and love a good challenge, it's hard to think of a better job than working as a systems technician.
That said, your prospects in this field will depend heavily on the type of training you receive. Contact us today and we'll give you even more information about our certification programs and how they'll set you up for success.