Get the Skills to Be a Professional Refrigeration & HVAC Technician In Colorado Springs and Grand Junction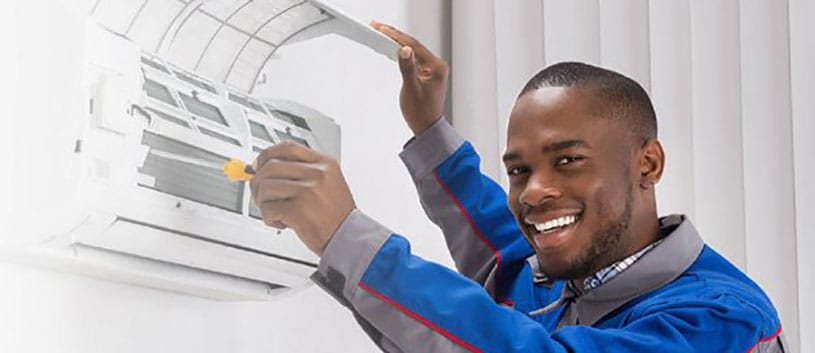 19.5 Month* Hands-On Refrigeration & HVAC Technician Training Program in Colorado Springs and Grand Junction
The Refrigeration and HVAC Technician program is designed to give you the confidence and skills you need to succeed in your new career.
At IntelliTec College, you'll learn how to install, maintain and repair heating, ventilation, air-conditioning and refrigeration systems. You'll also build professional customer service skills that will benefit your future success.
Next Start Date: Oct 5thRefrigeration and HVAC Technician Intellitec College - Pueblo 3673 Parker Blvd. Pueblo CO USA 81008 We enjoy climate-controlled environments. If you're independent, like to work with your hands and want to help people feel comfortable, the 19.5 month* Refrigeration & HVAC program at IntelliTec College might be right for you.https://intellitec.edu/wp-content/uploads/2019/06/banner-mobile-hvac-hero.jpgIntellitec College
What Does a Refrigeration & HVAC Technician Do?
Heating, ventilation, air conditioning and refrigeration mechanics and installers—often referred to as HVAC-R Technicians—work on heating, ventilation, cooling, and refrigeration systems that control the temperature and air quality in buildings. They may use blueprints or specifications to install or repair HVAC-R systems, inspect and maintain HVAC-R systems, and repair or replace worn and defective parts. Technicians may also connect systems to fuel and water supply lines or install electrical wiring and controls.
HVAC-R Job Opportunities
Refrigeration Technician
HVAC Service Technician
HVAC Control Technician
HVAC Mechanic or HVAC Installer
Heating Equipment Technician
Facility Maintenance Technician
Environmental Maintenance Technician
and more!
This school has helped me get my career started and find my dream job.
Refrigeration & HVAC Technician Salary Potential
IntelliTec College provides career-training programs for entry-level positions. Salaries vary depending on geographic location, economic conditions, and willingness to relocate. Salaries by occupation and specific location can be found here. National figures for labor market activity, working conditions, and price changes in the economy are available here. You can also visit the campus career services department to learn where IntelliTec graduates work and the beginning salaries in their respective careers.
How Is the Job Outlook for the Next 10 Years?
According to the US Department of Labor, job opportunities for qualified applicants with computer and electronics familiarity and good troubleshooting skills will have the best opportunities as employers continue to have difficulty finding qualified technicians to install, maintain, and repair complex new systems.
When Do HVAC-R Technicians Usually Work?
The average HVAC-R Technician works 8 hours a day during normal working hours (approximately 8:00 am – 4:00 pm or 9:00 am – 5:00 pm). During extreme weather patterns, most HVAC-R techs are offered overtime hours during nights and weekends.
Get All the Important Details
Associate of Occupational Studies Degree
The Refrigeration & HVAC Associate of Occupational Studies Degree program is designed to develop the skills and knowledge for entry-level employment as an HVAC-R Technician in the commercial, residential, or industrial refrigeration and heating industry. Graduates are prepared to sit for Mechanic IV Licensing, EPA Certification, and additional certifications.
Locations:
Program length: 19.5 Months*
Hands-on skills students learn in the classroom and lab settings include:
Installation and operation of electrical controls operation
Maintenance & repair of residential & commercial heating and air systems
Refrigerant recovery and evacuation
Operation, maintenance, & repair of commercial refrigeration systems
Diagnosis of pressure sensing devices of programmable control systems and the diagnosis of mechanical control systems
Troubleshooting of chilled-water systems & water tower systems & pumps
Customer service and professional confidence Installation of domestic & commercial water heaters & HVAC systems
Combustion analysis and blueprint reading
Refrigeration & HVAC Technician Program Gainful Employment Disclosures: Colorado Springs | Grand Junction
Here's what will you learn in the Associate of Occupational Studies Degree program:
Is Hands-On Training for a Career as a Refrigeration & HVAC Technician Right for You? Get More Info…
If you're interested in exploring whether IntelliTec College's educational training programs for career opportunities in the Refrigeration & HVAC industry are right for you, fill out the form on this page to receive more information.
A helpful IntelliTec College Admissions Representative will be happy to answer any questions you have and can help with everything from determining the right career path for you to discussing financial aid options.
*Program length when completed in normal time.