Get the Skills to Be a Professional Nursing Assistant In Pueblo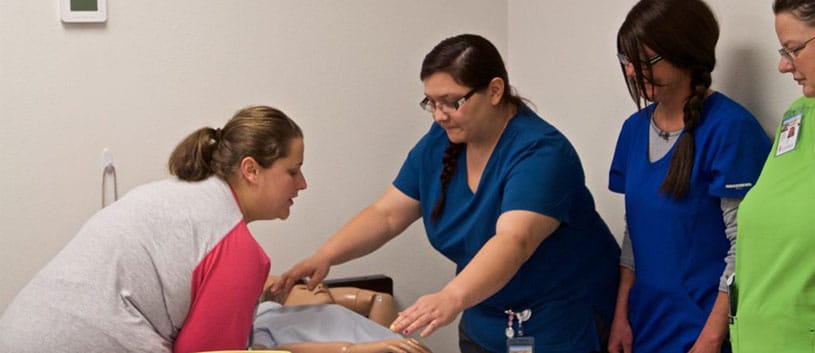 4 Week* Hands-On Nursing Assistant Program
Prepare to help people with in-demand skills needed to be a Nursing Assistant. In as little as a month*, you would be prepared to sit for the Nursing Assistant State Board Exam.
Next Start Date: Sep 25thNursing Assistant IntelliTec College - Pueblo 3673 Parker Blvd. Pueblo CO USA 81008 You don't have to spend months or years to build a rewarding career a healthcare setting. IntelliTec College has a 4-week Nursing Assistant program that saves you time and money.https://intellitec.edu/wp-content/uploads/2019/06/nursing-assistant-hero.jpgIntelliTec College
What Does a Nursing Assistant Do?
Nursing assistants, sometimes called nursing aides, help provide basic care for patients in hospitals. This could encompass a variety of ages such as birthing center, pediatrics or adults. Home health care is another expanding need for assistants. Additionally, working in nursing homes or residential care facilities can provide long-term help to patients. Orderlies transport patients and clean treatment areas.
Job Opportunities in Nursing Assisting
Nursing Assistant
Orderlies
Nursing Aides
and more!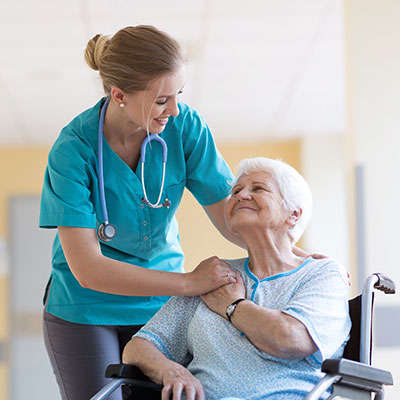 Nursing Assistant
$36,590 median annual salary***
8% Job Growth from 2020-2030
Graduates hired by nursing homes, hospitals, & home healthcare services
2 Certification Tracks (Including Certified Nursing Assistant & CPR)
Advance into a Licensed Practical Nurse, Registered Nurse, Geriatric Care Manager and much more!
*** https://www.onetonline.org/link/localwages/31-1131.00?st=CO&g=Go visited on May 26, 2022. Salary source for nursing assistants in Colorado with lowest 10% earning $29,370 to the highest 10% of workers earning $38,500.
IntelliTec has helped me reach my career goals by opening a door of opportunity for me to expand my knowledge.
Salary Potential for Nursing Assistants
IntelliTec College provides career-training programs for entry-level positions. Salaries vary depending on geographic location, economic conditions, and willingness to relocate. Salaries by occupation and specific location can be found on the O*NET website. National figures for labor market activity, working conditions, and price changes in the economy are available from the Bureau of Labor Statistics. You can also visit the campus career services department to learn where IntelliTec College graduates work and the beginning salaries in their respective careers.
---
How Is the Job Outlook for the Next 10 Years?
According to the US Department of Labor, many nursing assistants and orderlies will be needed to assist and care for elderly patients in long-term care facilities, such as nursing homes. Older people are more likely than younger people to experience dementia, as well as chronic diseases such as heart disease and diabetes. More nursing assistants will be needed to care for patients with these conditions. In addition, patient preferences and shifts in federal and state funding are increasing the demand for home and community-based long-term care, which should lead to increased opportunities for nursing assistants working in home health and community rehabilitation services.
When Do Nursing Assistants Usually Work?
Most nursing assistants and orderlies work full time. Because nursing homes and hospitals provide care at all hours, nursing assistants and orderlies may need to work nights, weekends, and holidays.
Get All the Important Details
Nursing Assistant Courses In Pueblo
This program is designed to present the theory as well as the hands-on practice needed to prepare students for an entry-level position as a Nursing Assistant. Upon completion of the theory and skills learned, students will have hands-on experience and knowledge in regards to long term care in different facilities in the Pueblo, CO, area. In these facilities, students will have the opportunity to interact one-on-one with clients in a setting comparable to what a student can expect in the field. Upon successful completion of the course, students will be able to apply for the State Board Exam to become a Certified Nursing Assistant.
Locations:
Program length: 4 Weeks
Award: Certificate
Contact hours: 80
Credentialing Information: NNAAP State Board Exam
Career training begins approximately every 4 weeks
Our goal is to provide an opportunity for you to become an important part of the medical community and enjoy a fulfilling career.
Here's what you can expect from your Nursing Assistant training:
How to interact with clients to ensure emotional, social, and mental healthcare met
Assisting clients in attaining and maintaining independence
CPR certification
Basic Nursing Skills including Vital Signs, Intake & Output Measurement, and Proper Hand Washing
This could be a terrific first step in your medical training, especially if you have the desire to be an RN one day.
Here are the Nursing Assistant courses you will take:
Nursing Assistant Basic Care

NA-100 Nursing Assistant Basic Care

Students will learn the theory and hands-on skills necessary to perform the duties of a Nursing Assistant. Students are taught the twenty-two (22) skills following the precise steps as listed in the Colorado Nurse Aide Candidate Handbook with emphasis on the critical element steps.

Contact Hours: 60
Prerequisite(s): None

Nursing Assistant Externship

NA-101 Nursing Assistant Externship

Students will have hands-on experience and knowledge in regards to long term care in different facilities in the Pueblo, CO area. In these facilities, students will have the opportunity to interact one-on-one with clients in a setting comparable to what a student can expect in the field.

Contact Hours: 20
Prerequisite(s): NA-100

Board-Approved Nursing Assistant Program
IntelliTec's Nursing Assistant program is approved by the Colorado Board of Nursing.

Is a Rewarding Career as a Nursing Assistant Right for You? Get More Info…
If you're interested in exploring whether IntelliTec College's educational training programs for career opportunities in Nursing Assisting are right for you, or you want to learn more about how you can transfer credits to one of our many international university partners, fill out the form on this page to receive more information.
A helpful IntelliTec College Admissions Representative will be happy to answer any questions you have and can help with everything from determining the right career path for you to discussing financial aid options.
*Program length when completed in normal time.