Get the Skills to Be a Professional Automotive Technician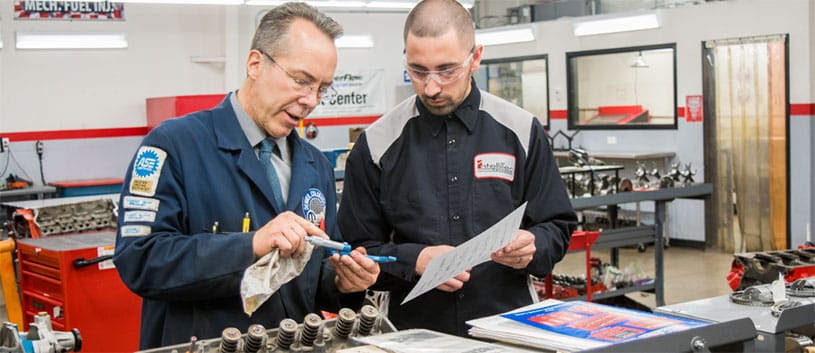 15 to 19.5 Month* Hands-On Automotive Technician Training Program
Can you believe more computer technology exists in today's cars than in the first Apollo spacecraft? That's why you need hands-on training to work on today's modern and sophisticated automobiles in a real-world automotive repair facility.
At IntelliTec College, our certified and experienced instructors have a real passion for the automotive industry and strive to prepare you to become a qualified automotive technician. You'll learn to analyze, troubleshoot and repair vehicles, skills that are needed by specialty and master technicians.
Next Start Date: Sep 25thAutomotive Technician IntelliTec College - Albuquerque 4575 San Mateo Blvd NE - Suite K Albuquerque NM USA 87109 Do you like tinkering on engines, fixing problems for customers, and being on the front-end of car technology? IntelliTec's Automotive Technician will prepare you to work in the auto industry in as little as 15 months*. https://intellitec.edu/wp-content/uploads/2019/06/automotive-hero.jpgIntelliTec College
What Does an Automotive Technician Do?
Automotive Technicians perform maintenance (oil changes, fluid level checks, tire rotations, etc.) and repairs (brake pads, wheel bearings, sensors, etc.) on a variety of vehicle types, identify problems using diagnostic tools, test system and parts functionality, and provide solid customer service when explaining automotive issues and repairs.
Automotive Technician Job Opportunities
Transmission Technician & Rebuilder
Drivability Technician
Automotive HVAC Technician
Parts Professional or Sales
Front-end Technician
General Service Technician
Brake Technician
and more!
---
The Career Services is awesome. Joe

Zeman

helped me revamp my resume to match the needs of the Colorado area and landed me a great career at Carmax.
Salary Potential for Automotive Technicians
IntelliTec College provides career-training programs for entry-level positions. Salaries vary depending on geographic location, economic conditions, and willingness to relocate. Salaries by occupation and specific location can be found on the O*NET website. National figures for labor market activity, working conditions, and price changes in the economy are available from the Bureau of Labor Statistics. You can also visit the campus career services department to learn where IntelliTec College graduates work and the beginning salaries in their respective careers.
How Is the Job Outlook for the Next 10 Years?
According to the US Department of Labor, job opportunities for qualified applicants with the right skills and auto technician education should be very good and those who complete formal postsecondary training programs or achieve ASE certification should enjoy the best job prospects.
When Do Automotive Technicians Usually Work?
The majority of automotive technicians are employed on a full-time basis. Some automotive service centers are open late or on weekends so technicians may have to work some evenings and weekends.
Get All the Important Details
Graduates will have the knowledge and skill to function effectively in an entry-level employment position within the automotive service and/or repair industries. Through the utilization of lectures/presentations, hands-on training, and real world automobiles in a simulated automotive repair facility environment, successful graduates will have demonstrated competency in working with brakes, suspension systems, manual and automatic transmissions, engine performance, starting and charging systems, climate control systems, emissions, and running and interpreting diagnostic and troubleshooting routines. Personal and shop safety practices will be emphasized and practiced throughout this training experience. Upon successful completion, the graduate will be prepared to sit for numerous certifications.
Automotive Technician Certificate
Locations:
Program length: 15 Months*
Award: Certificate
Credit hours: 72
Associate of Occupational Studies Degree
Major: Automotive Technician
Locations:
Program length: 19.5 Months*
Award: AOS Degree
Credit hours: 94.5
The Automotive Technician program is designed to give you the confidence and skills you need to succeed in your new career.
During your classes, you will:
Get hands-on automotive training using industry tools and diagnostics
Design and assemble high performance engines at our Colorado Springs campus
Learn light diesel engine repair
Receive personalized instruction from certified instructors.
Prepare to sit for automotive certifications
Here's what will you learn in the Associate of Occupational Studies Degree program:
Here's what will you learn in the Automotive Technician Certificate program:
Automotive Industry Certifications
Students may have the opportunity to sit for the following certifications:
Entry-level ASE Certifications
EPA Section 609 Refrigerant Recovery & Recycling Certifications
Pro Cut Train Smart Level 1 Certification
After Graduation Certifications
After successfully completing your auto mechanic school training at IntelliTec College, you will be well on your way to being prepared to sit for these automotive certification exams:
ASE Certifications (Engine Repair, Automatic Transmission/Transaxle, Manual Drive Train & Axles, Suspension & Steering, Brakes, Electrical/Electronic Systems, Heating & Air Conditioning, Engine Performance, Light Vehicle Diesel Engines)
Tool Partnership with MATCO
IntelliTec College is proud to partner with MATCO for our automotive tools. Each student will receive their own service-cart with a 200+ piece tool set. Students also have the benefit of purchasing additional tools while in school at a discounted rate. Talk to one of our instructors for details.

IntelliTec College & Electude Partnership
IntelliTec in partnership with Electude make sure our students have the most state-of-the-art e-learning technology. Using 3D gaming and simulation software developed by Electude, our students learn in-demand skills that can be applied to their careers immediately.
Is Hands-On Training for a Career as an Automotive Technician Right for You? Get More Info…
If you're interested in exploring whether IntelliTec College's educational training programs for career opportunities in the Automotive industry are right for you, fill out the form on this page to receive more information.
A helpful IntelliTec College Admissions Representative will be happy to answer any questions you have and can help with everything from determining the right career path for you to discussing financial aid options.
*Program length when completed in normal time.