IntelliTec College Admissions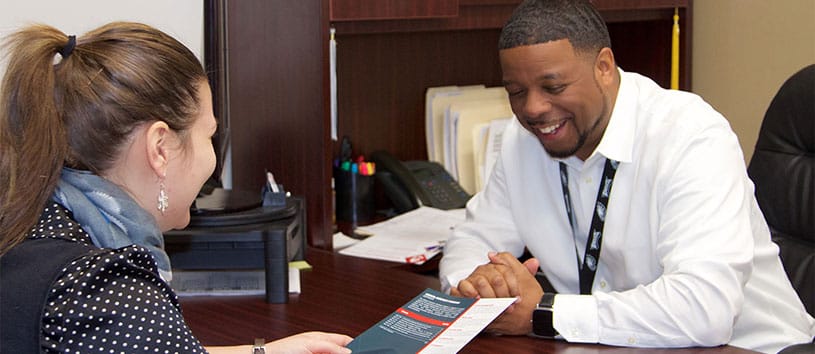 Ready to Take That Important First Step?
If you're feeling close to taking that first step to become an IntelliTec College student and begin your journey toward a rewarding career, that's great! You're about to make a smart decision that will have long-term benefits for you and your future.
Your Admissions Experience
It's an exciting time to embark on a new career. Now is the time to invest in YOU! At IntelliTec College, our admissions team is ready to not only walk with you through this experience to become a student, but see you walk at graduation.
Follow these 6 basic steps to become an IntelliTec College student:
Step 1 – Contact Us
There are 3 easy ways to get in touch with us:
Step 2 – Understand the Requirements
As you begin conversations with your Admissions Representative, you'll be asked to show your high school diploma, GED or equivalent. If you do not have that documentation, you'll need to get your GED to begin. Obtaining that isn't too difficult with a little bit of patience and will power.
Additionally, every student must be able to read, write, speak and understand the English language. Some students may be required to provide documentation of vaccinations due to their academic program. Please consult with your Admissions Rep about your personal requirements.
Step 3 – Learn About Your Future Career Options
Our Admissions team enjoys helping students like you find a new career path. After a brief phone interview, you will be scheduled to take a campus tour to get familiar with our academic environment to ensure it's the right fit.
During this time, you'll learn about our programs and the hands-on training that will take place within the classroom and lab environment.
Step 4 – Discover Your Financial Aid Availability
One of the biggest concerns you may have is how you will pay for your IntelliTec College education. This is an important investment in yourself, so it is equally important that you consider the time and money that's required.
As part of your campus tour visit, your admissions rep will introduce you to a Financial Aid Representative that will help you provide some preliminary information to understand what aid you may qualify for and what financial options are available for you so that you can create a workable plan to pay the tuition charges.
Step 5 – Enroll with IntelliTec College
Once you fully know and understand the program details and expectations, you can complete an enrollment agreement. Your application information will be reviewed by a school representative for approval. Once you are accepted, your Admissions Rep will go over any final checklist items needed and your start date.
IntelliTec College has start dates throughout the year.
Step 6- Begin Your IntelliTec College Student Experience!
You will start with our 6-week College and Career Readiness course which is designed to prepare students for Career Training Success.