IntelliTec College Cosmetology Salons Grand Junction & Pueblo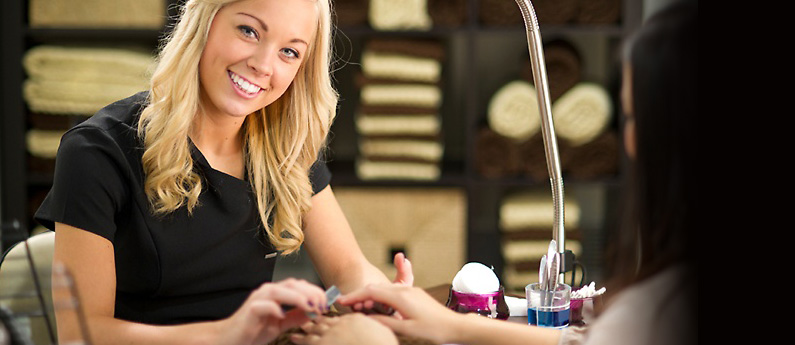 Find Our Salons in Grand Junction  &  Pueblo

Current Specials – Only Until June 30th!
Our "Two is Better Than One" special is back! Book an appointment for you and a friend and receive an additional 10% off the advertised price of the service(s).
Additional Specials:
Get ready for summer with a Specialty Facial and Back Treatment Combo for only $25
Acne Treatment Facial for only $15
Cut and Style for only $5
$5 off any color or highlight service
Spa Manicure and Spa Pedicure combo for only $25
Image Skin Care Blowout Sale in Grand Junction only! All Image Skin Care is 20% off*
Salon Services
Pamper Yourself While Helping Our Cosmetology Students
Walk-ins welcome
Services include hair, nails, skin and waxing
Affordable, professional salon services in a professional atmosphere
Future professional cosmetologists perform all salon services under instructor supervision
All services for long hair may have additional charges. Additional charges will be estimated at the time of the consultation
Additional additives to any skin care service are $5.00 each
Gift certificates available
We accept Cash, Checks, Visa, MasterCard and Discover
Hair Services
Cut and Style – $9
Child Cut and Style – $6
Shampoo and Style – $7
Formal Style – $16
Perm – starting at $27
All-over Color – starting at $25
Highlight – starting at $28
Nail Services
Spa Manicure – $18
Spa Pedicure – $23
Full Set – $25
Fill/rebase – $15
Skin Care Services
Cleansing Facial – $25
Specialty Facial – $35
Back Treatment – $30
Make-Up Application – $10
Waxing Services
Brow/Lip/Chin – $10
Half Leg – $18
Full Leg – $35
Underarm – $15
Back – $20
Ask about our unadvertised add-on services and our salon specials.
Love our Cosmetology Salon?
Check out our awesome Massage Clinic!
Hours and Contact Info
IntelliTec College Cosmetology Salon – Grand Junction
(970) 241-3452 | cosmogj@intellitec.edu
Please call us for available appointments on the following days:
Monday–Wednesday, 9am – 5pm
Thursday & Friday, 9am – 7pm
IntelliTec College Cosmetology Salon – Pueblo
(719) 288-5510 | cosmopb@intellitec.edu
Please call us for available appointments Monday–Friday, 10am – 7pm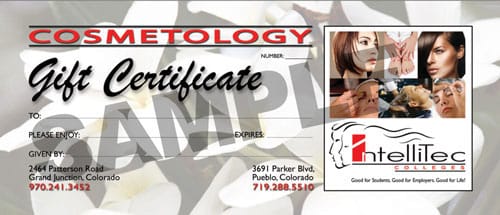 Addresses and Directions
IntelliTec College Cosmetology Salon – Grand Junction
2464 Patterson Rd
Grand Junction, CO 81505
(970) 241-3452
IntelliTec College Cosmetology Salon – Pueblo
3691 Parker Blvd
Pueblo, CO 81008
(719) 288-5510
*While supplies last