Get the Skills to Be a Professional Massage Therapist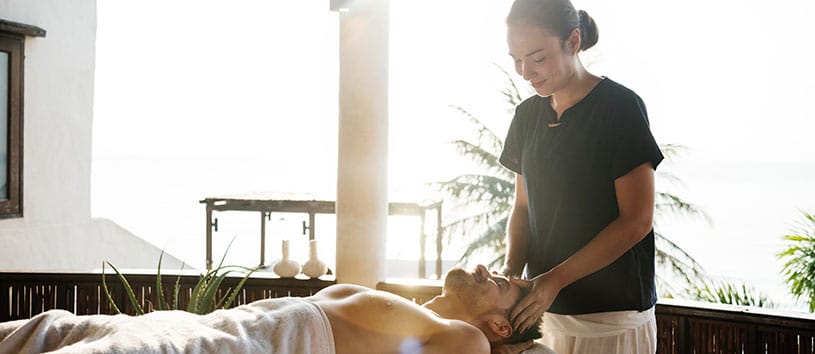 9 Month* Hands-On Massage Therapy Program in Colorado and New Mexico
Feel you've got a hidden gift for helping others heal, a gift that just needs to be brought to the surface and developed?
Learn hands-on Massage Therapy techniques to increase circulation, relieve tension, reduce  stress, relieve anxiety, improve sleep, and promote relaxation throughout the entire body, as well as many other benefits.
Next Start Date: Sep 25thMassage Therapy IntelliTec College - Albuquerque 4575 San Mateo Blvd NE - Suite K Albuquerque NM USA 87109 Want to help others by putting your hands to work? Develop a rewarding career that helps people relax, reduce stress and heal from injury. The Massage Therapy program at IntelliTec College can set you up for all that in 9 months*.https://intellitec.edu/wp-content/uploads/2019/06/massage-therapy-hero.jpgIntelliTec College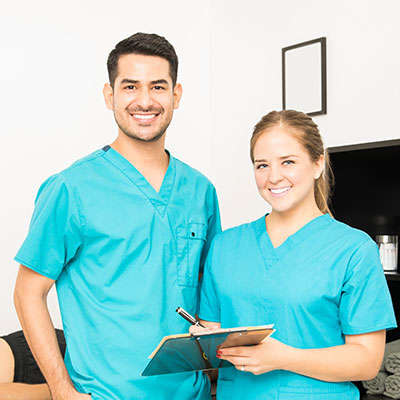 Massage Therapy
$46,910 median annual salary***
Anticipated job growth, 11% (2021-2031)
Graduates hired by spas, hospitals, fitness centers, or are self-employed
2 Certifications options (Massage & Bodywork Licensing Exam (MBLEX) & CPR Certification)
Advance and grow your practice in areas that interest you, such as rehabilitation, energy work, reflexology and more!
*** https://www.onetonline.org/link/localwages/31-9011.00?st=&g=Go visited on Nov.28 2022. Salary source for massage therapists with lowest 10% earning $24,450. to the highest 10% of workers earning $77,600.
What Does a Massage Therapist Do?
Massage Therapists treat clients through touch to manipulate the muscles and other soft tissues of the body. Therapists relieve pain, help heal injuries, improve circulation, relieve stress, increase relaxation, and aid in general wellness. In addition, many Massage Therapists talk with clients about medical history and desired results, evaluate clients to locate painful or tense areas of the body and may suggest personal treatment plans for their clients.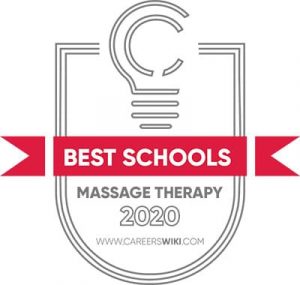 IntelliTec College's Grand Junction Campus has been ranked as one of the Top Massage Schools in Colorado for 2020. This recognition shows the impact of quality training and support students receive at IntelliTec turns into rewarding careers after graduation.
Job Opportunities in Massage Therapy
Certified Massage Therapists can find employment in the following settings:
Day and Health Spas or Beauty Salons
Health Clinics
Vacation Resorts, Cruise Ships and Retreat Centers
Fitness Centers and Yoga Centers
Sports Clinics
Hospitals
Physical Therapist Offices
and more!
---
IntelliTec assisted me in reaching my career goals by giving me the knowledge and the ability to apply said knowledge to Massage Therapy, and starting my own business.
Salary Potential for Massage Therapists
IntelliTec College provides career-training programs for entry-level positions. Salaries vary depending on geographic location, economic conditions, and willingness to relocate. Salaries by occupation and specific location can be found on the O*NET website. National figures for labor market activity, working conditions, and price changes in the economy are available from the Bureau of Labor Statistics. You can also visit the campus career services department to learn where IntelliTec College graduates work and the beginning salaries in their respective careers.
How Is the Job Outlook for the Next 10 Years?
According to the US Department of Labor, continued growth in the demand for massage services will lead to new openings for massage therapists. As an increasing number of states adopt licensing requirements and standards for therapists, the practice of massage is likely to be respected and accepted by more people as a way to treat pain and to improve overall wellness.
When Do Massage Therapists Usually Work?
Massage therapists work by appointment in most cases and their schedule and the number of hours worked each week vary significantly. In addition, because of the strength and endurance needed to give a massage, many therapists limit their daily massage service hours.
Get All the Important Details
Massage Therapy Certificate
Graduates will:
Develop massage therapy skills through hands on applications in and out of the classroom and lab setting.
Complete the program with the necessary skills to perform Swedish, Therapeutic, and Deep Tissue Massage Therapy, Massage techniques for specific injuries, detailed client assessments, session documentation, and treatment planning.
Gain knowledge about the various work options Massage Therapists have in the Industry including working as an employee or in an Independent practice, and how to market themselves and their practice.
Combine knowledge and hands-on practice to be prepared to sit for their Massage and Bodywork Licensing Exam (MBLEX), which is necessary for obtaining their Massage Therapy license in the State of Colorado and New Mexico. Graduates will also have enough contact hours to register to be Certified with the National Certification Board for Therapeutic Massage and Bodywork (NCBTMB).
Locations:
Program length: 9 Months*
Award: Certificate
Contact hours: 750
Credentialing Information:  Massage and Bodywork Licensing Exam (MBLEX) 
Our Massage Therapy classes will provide you with these current industry skills and techniques to help you design client therapy plans:
Massage for special populations such as sports and prenatal
Aromatherapy, Reflexology, Hydrotherapy and Spa services
Hot & cold stone massage
Advanced massage techniques including deep tissue and myofascial release
Client assessment, treatment planning, and documentation
Building & marketing a massage business
Advanced client intake including pathology screening and SOAP charting
Knowledge of anatomy and physiology Kinesiology including palpation skills
Here's what you will learn in the Massage Therapy program:
Massage Therapist Board Certifications
IntelliTec College in Grand Junction is an "Assigned School" by the National Certification Board of Therapeutic Massage and Bodywork (NCBTMB). This allows our Massage Therapy program graduates to sit for the Board Certification Exam.

Massage Clinic
Students will practice what they have learned in class and refine their skills on actual clients in the student clinics offered at each campus during the last term. In addition to providing massage services, they will book appointments, conduct client intakes, maintain records, complete office duties, set goals, and complete additional business tasks. Student Clinic hours vary by campus, to learn more visit our clinic page or talk to your local campus.
Certifications
Students may receive the opportunity to sit for the following certifications:
Massage & Bodywork Licensing Exam (MBLEX) administered by the Federation of State Massage Therapy Boards
CPR Certification
After Graduation
After successfully completing your training at IntelliTec College, you will be well on your way to being prepared to sit for the Therapeutic Massage & Bodywork Exam administered by the National Certification Board for Therapeutic Massage & Bodywork (NCBTMB).
Is a Rewarding Career in Massage Therapy Right for You?
Get More Info…
If you're interested in exploring whether IntelliTec College's educational training programs for career opportunities in Massage Therapy are right for you, fill out the form on this page to receive more information.
A helpful IntelliTec College Admissions Representative will be happy to answer any questions you have and can help with everything from determining the right career path for you to discussing financial aid options.
*Program length when completed in normal time.