Financial Aid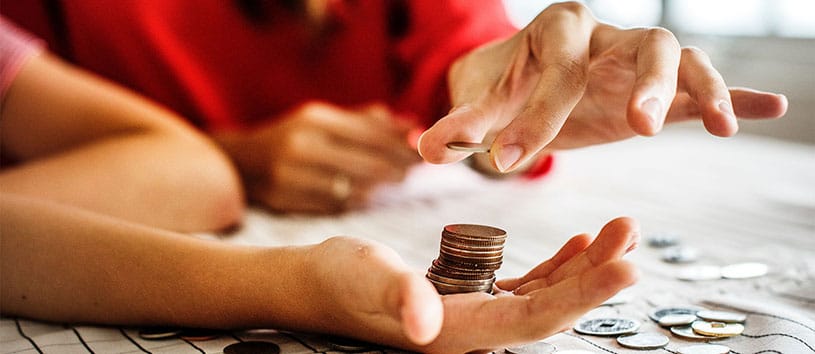 Tuition Shouldn't Be an Obstacle to Getting the Training You Need
Finding the right balance between providing for your family and affording the cost of school can be tricky. That's why Financial Aid is the solution many people just like you turn to.
With various scholarships and government funding, such as grants, loans and work-study programs, available to you, it's important to do your research and find the right fit for you and your future.
Wondering where you should start?
Federal Student Loans
Federal student loans can have a much lower interest rate than private loans and sometimes the interest is deferred while students are in school. Keep in mind that any money you borrow needs to be repaid. IntelliTec College is a participant in the Federal Direct Loan Program in which students borrow Stafford Loan funds directly from the U.S. Department of Education rather than from a lender.
Link to Free Application for Federal Student Aid (FAFSA) 
Net Price Calculator: Albuquerque | Colorado Springs | Grand Junction | Pueblo
For assistance with your financial aid questions please contact your Admissions Representative or the Financial Aid Office at the campus of your choice listed below.  
IntelliTec College's Financial Aid Department
At IntelliTec, you have a team working with you from the very start. We help you weigh your options, apply for aid, and decide on the best financial plan for you. Our Financial Services Representatives are focused on one goal: finding any and all available Financial Aid to help you invest in your future.
What Are My Financial Aid Options?
There are many options available today. Based on who you are, your life experience, your merits, and more, your options for Financial Aid can vary. That is why it is important to do your research and find the plan that is best for you. IntelliTec is here to help you along the way.
Click on the types of financial aid below to learn more about your options:
One of the most widely available college grants is the federal Pell Grant. It is important to know how much grant money is available to you, if you qualify, and how you can apply.
At IntelliTec, our Financial Aid Department is all about finding the funds to help you pursue your dreams. Even if you aren't sure where to start, a Financial Services Representative is ready to tell you more about the options available to you.
What Is a College Grant?
A college grant is money that is awarded to students based on financial need. Like a scholarship, grants do not have to be paid back; they are awarded to you if you meet the financial qualifications for the grant.
The money for a college grant can be used to pay for all aspects of your college costs, from tuition to housing to other fees. At IntelliTec, you will most likely use this money towards your tuition, which includes all the fees, equipment, and books you might need for your course of study.
A grant is a great solution for those who are at a lower income level and are seeking assistance in starting their college journey.
How Do I Qualify for a College Grant?
A college grant, unlike a scholarship, is based on financial need only. Scholarships are usually more merit-based; a grant focuses on your income and the financial need for assistance to go to school.
To find out which type of federal aid you qualify for, it is important to start out by filling out your Free Application for Federal Student Aid (more commonly known as FAFSA) form.
What Types of College Grants Are There?
Based on the information that is processed through your FAFSA form, your ability to be awarded federal grant money can vary based on the qualifications for each type of grant. For IntelliTec students, the two grants that would likely be the best fit for you are either the Federal Pell Grant or the Federal Supplemental Educational Opportunity Grant (FSEOG).
The Pell Grant and the FSEOG are both types of grants that are awarded to undergraduate students. These federal grants are among the most common ones that students seek, making it important to fill out your forms early to qualify for these funds.
How Much Money Can I Get from College Grants?
Federal college grants are always determined based on need, your student status (full-time or part-time), the cost of your program, and your plans for how long you will be in school.
The Pell Grant has a maximum award amount of $6,095 for the 2018–2019 award year.
FSEOG awards at Intellitec College typically are between $200 to $500 per year, based on availability. Contact our Financial Aid office for information on applicable qualifications for this grant.
It is worth noting that federal Financial Aid money can be denied based on unresolved loan defaults, Pell overpayments or drug-related felonies. The Financial Aid Department will be able to determine if and how some of these obstacles can be resolved.
Financial Aid is available to those who qualify.

One of the most common ways that people pay for college is through federal loans. Loans must be repaid, but they are extremely helpful in allowing you to afford to go to school while living your life. Since most people cannot just write a check and pay off their college tuition, federal loans are instrumental in allowing students to pay for their education.
You must fill out the FAFSA form to become eligible for the loans.
How Do I Get a Student Loan?
Based on financial need, the institution can determine what amount of money you can receive from the various loan types, based on your need and other factors.
The most common types of federal loans include the following: Direct Subsidized Loan, Direct Unsubsidized Loan, and Direct Plus Loan (Parent Loan) for Undergraduate Students.
To learn more about the differences between these loans, talk to our Financial Aid office today to learn more.
How Do I Pay Back School Loans?
The benefit of attending a career college like IntelliTec is that you are on the fast track to a great career. This means you are even closer to earning a salary, giving you the ability to pay back your loans.
It is important to keep in mind, when you choose a loan, what the timeline is for paying off your loans (when you must start paying them, and how often), but also knowing what interest rates are involved.
Interest rates on federal loans are set annually by the federal government; the more you borrow, the more you will end up having to pay back. Our Financial Aid Department will give you the specifics on each type of loan and any available repayment options you can choose once you start repaying these loans.
What Are the Benefits of Taking Out Loans?
Student loans are a very common way to pay for your school, allowing you to pay the school, do your work, graduate, and start your new life.
Especially if you do not meet many of the necessary requirements for grants or scholarships, loans can be the best way to secure funds for school. Even if you do qualify for grant or scholarship money, those free funds are often not enough to cover your entire tuition cost.
With loans, you can continue to go to school, work, and support your family without an added worry about finances.
Plus, along with our Financial Aid staff, IntelliTec also has a great Career Services team. When you finish your program at IntelliTec, our Career Services staff is here to help you. We do everything we can to get you placed into a great job, allowing you to have the necessary funds to quickly start paying off your loans.
---
Loan Repayment Scam Alert
Letter to IntelliTec Students & Grads: Please read our letter on the IntelliTec Blog for more details.
Financial Aid is available to those who qualify.
What is a Work-Study Program?
It's a federal program that provides part-time jobs for undergraduate students with financial need, allowing them to earn money to help cover their education expenses. The program encourages community service work and work related to the student's course of study.
How Do I Apply for a Federal Work-Study?
Choose "Federal Work-Study" when filling out your Federal Application for Federal Student Aid (FAFSA) form.
Once your FASFA is submitted, your personal financial information determines your eligibility for the program.
Learn more about the Federal Work-Study program and see if a position is available for you by contacting a Financial Services Representative today!
Financial Aid is available to those who qualify.
---
How Do I Qualify for Financial Aid?
Federal Financial Aid is always determined on an individual basis. However, there are other ways that you can qualify for non-federal aid! It's all about finding the right scholarship, loan, or program that fits your needs. To qualify for Federal Financial Aid options, these are some of the basic requirements:
You demonstrate the need for financial assistance based on the federal formula
You are a US citizen, or an eligible noncitizen
Have your high school diploma, GED or equivalent
You should be accepted into an IntelliTec program and ready to start your coursework
As mentioned above, there are various avenues for securing grants or loans for your time at IntelliTec. Most students need both to cover all educational expenses. If you have questions about whether you qualify and what programs would be best for you, our team can help.
Each campus has a Financial Services Representative who will work with you one-on-one to guide you through the funding process. We can help you determine which option will result in the lowest interest rates, the easiest payment plans, and the quickest way to move forward after you complete your program.
Invest in Your Future Today
You are making the most valuable investment in yourself. By putting in the time and money today, your tomorrows will be filled with increased salaries, job stability, and a career you can be proud to call yours.
To explore your options for Financial Aid, contact our Financial Aid Department today. We can help you get started.
Financial Aid is available to those who qualify.
Higher Education Emergency Relief Fund
IntelliTec College, received education stabilization funds under Section 18004(a)(1) of the Coronavirus Aid, Relief, and Economic Security Act ("CARES Act"). As a result, students at each campus were eligible for CARES Act Funds. Students applied and those funds, and based on eligibility the funds were distributed. See the Higher Education Emergency Relief Fund Report and disclosure here.
IntelliTec was able to secure a second round of funding, and current students at each campus received a notification to apply.
Want to Learn More About Your Financial Assistance Options? Get More Info…
If you're interested in learning more about your financial assistance options available at IntelliTec College fill out the form on this page and we'll get you some more information.
A helpful IntelliTec College Admissions Representative will be happy to answer any questions you mayhave.