Get the Skills to Be a Professional Medical Assistant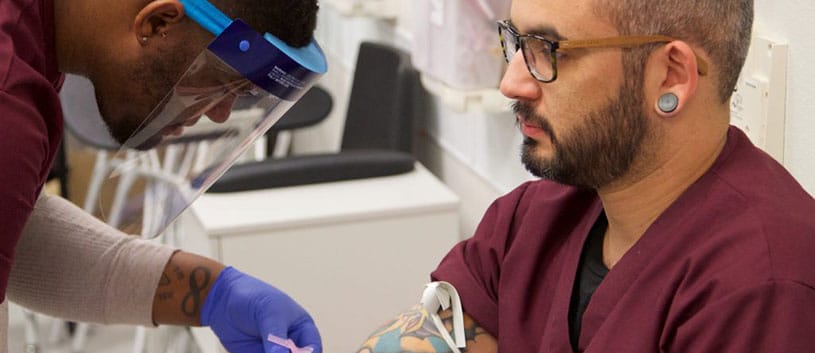 12 to 18 Month* Hands-On Medical Assistant Program in Colorado & New Mexico
Make use of your people-person skills and your passion for variety in a fulfilling career as a Medical Assistant.
As you gain hands-on training in the healthcare field, you'll grow confident knowing you'll have many opportunities to use your valuable skills as an important part of a medical team.
Next Start Date: Jul 3rdMedical Assistant IntelliTec College - Albuquerque 4575 San Mateo Blvd NE - Suite K Albuquerque NM USA 87109 Got organization skills and a desire to help people in a fulfilling healthcare career? You might be the ideal candidate for the Medical Assistant program at IntelliTec College. You can be ready to jump into a career in only 12 months*.https://intellitec.edu/wp-content/uploads/2019/06/medical-assistant-hero.jpgIntelliTec College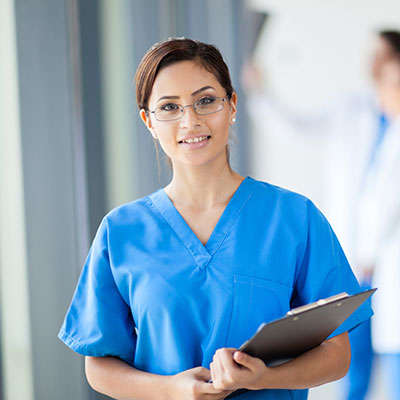 Medical Assistant
16% projected job growth between 2021-2031***
---
At IntelliTec, our students get hands-on experience in the classroom and in an externship to adequately prepare them for employment and their career after graduation.
IntelliTec Graduates can earn three marketable Certifications; the AMT Registered Medical Assistant, the RPT, Phlebotomy Technician & BLS CPR Certification.
You too can start your career as a Medical Assistant in as little as 12 months* and even earn your degree in as little at 18 months*, giving you even more ways to advance in your career!
*** Bureau of Labor Statistics, U.S. Department of Labor, Occupational Outlook Handbook, Medical Assistants, this link. Visited November 21, 2022).
What Does a Medical Assistant Do?
Medical Assistants complete administrative and clinical tasks in the offices of physicians, hospitals, and other healthcare facilities. A certificate program that prepares you to become a Medical Assistant can provide you with a wide range of skills for any medical office setting, such as recording patient histories and other personal information, measuring vital signs, scheduling patient appointments, preparing blood samples for laboratory tests, and helping physicians with patient examinations.
Job Opportunities in Medical Assisting
Medical Assistants could find employment in the following settings:
Physician Offices
Laboratories
Family Practices
Physical Therapist Offices
Community Health Centers
Hospital Chiropractic Offices
Sports Medicine Facilities
and more!
Intellitec has given me the skills needed to do my job in the profession I am going into.
Certificate & Degree Options
IntelliTec College offers a 12-month* Medical Assistant Certificate program for those who wish to take a shorter program and quickly start a career. Alternatively, you can take the remaining courses to complete the 18-month* Medical Assistant Associate's Degree program, which could lead to increased opportunities and a wider breadth of knowledge.
Medical Assistant – Certificate (12 Months*):
If you are looking to quickly start a career in the medical field, consider our 12-month* Certificate program. This program is intended for those who wish to take a faster approach to becoming a Medical Assistant.
Medical Assistant – Associate Degree (18 Months*):
With the NEW 18-month* Associate Degree program, you may find more opportunities for advancement with the additional skills you will gain. You will receive the knowledge and hands-on training you need to help prepare you for an entry-level career in a wide array of healthcare environments. Upon completion of this program, you will feel fully prepared to start a career as a Medical Assistant.
Salary Potential for Medical Assistants
IntelliTec College provides career-training programs for entry-level positions. Salaries vary depending on geographic location, economic conditions, and willingness to relocate. Salaries by occupation and specific location can be found on the O*NET website. National figures for labor market activity, working conditions, and price changes in the economy are available from the Bureau of Labor Statistics. You can also visit the campus career services department to learn where IntelliTec College graduates work and the beginning salaries in their respective careers.
How Is the Job Outlook for the Next 10 Years?
According to the US Department of Labor, the increased aging baby-boom population and the number of people who have access to health insurance continues to grow the demand for preventive medical services provided by physicians. Physicians will need to hire more Medical Assistants to allow the physicians to see more patients and many facilities will need more support staff to perform administrative and clinical duties.
When Do Medical Assistants Usually Work?
Office hours are generally 8:00 am to 5:00 pm. Some offices offer extended hours on weekdays and Saturdays. Evening, weekend, or holiday work may sometimes be required to cover shifts in medical facilities that are always open.
Get All the Important Details
Medical Assistant Certificate
The Medical Assistant Certificate program is designed to prepare students for entry-level positions as Medical Assistants in a variety of health care settings. Students learn the structure and function of the major bodily systems in conjunction with medical terminology, diagnostic and therapeutic procedures, computers skills, administrative processes and the processing of medical insurance forms and claims. Graduates are prepared to sit for the AMT Registered Medical Assistant and Phlebotomist examinations for certification.
Locations:
Program length: 12 Months*
Award: Certificate
Credit hours: 59
Credentialing Information: Registered Medical Assistant (AMT), Phlebotomy Certification (AMT)
Healthcare Administration: Medical Assisting Degree
Upon successful completion of this program, graduates will possess skills and knowledge required for employment as a Medical Assistant, functional in a wide array of technological environments, such as hospitals, offices of physicians, and other healthcare facilities. Graduates are prepared to sit for the AMT Registered Medical Assistant and Phlebotomist examinations for certification.
Locations:
Program length: 18 Months*
Award: Occupational Associates Degree
Credit hours: 90.5
Credentialing Information: Registered Medical Assistant (AMT), Phlebotomy Certification (AMT) 
How will IntelliTec College prepare me for my Medical Assistant Career?
IntelliTec Medical Assistant program students will learn about the following:
Scheduling patients and maintaining medical records
Pharmacology drug classifications, drug calculations and administration
Identifying anatomy and physiology of the body's systems
Care, treatment, and understanding of illnesses and injuries to the systems
Phlebotomy; blood pressure taking skills; injections and EKGs
CPR & First Aid knowledge and requirements
Electronic medical records application
Developing OSHA, HIPAA, and blood borne pathogen knowledge
Here's what you will learn in the Medical Assistant Certificate program:
Here's what will you learn in the Medical Assistant Associate Degree program:
Is a Rewarding Career as a Medical Assistant Right for You? Get More Info…
If you're interested in exploring whether IntelliTec College's educational training programs for career opportunities in Medical Assisting are right for you, fill out the form on this page to receive more information.
A helpful IntelliTec College Admissions Representative will be happy to answer any questions you have and can help with everything from determining the right career path for you to discussing financial aid options.
*Program length when completed in normal time.