Get the Skills to Be a Professional Cosmetologist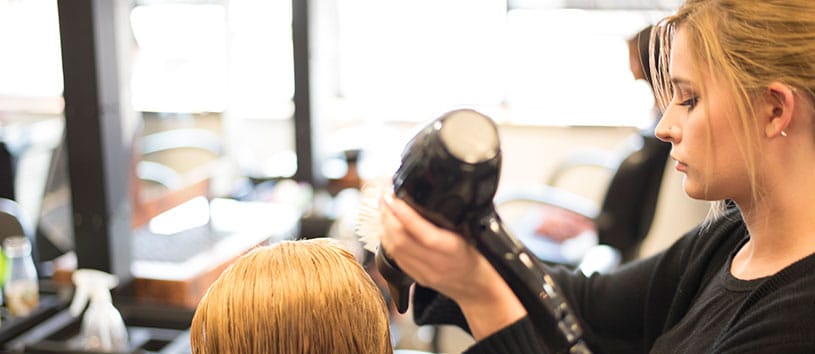 15 Month* Hands-On Cosmetologist Training Program in Colorado
At IntelliTec College, our cosmetologist program helps prepare you for a long-term career in the beauty industry by turning your passion into a profession. 
Through our hands-on training, you will learn to create unique hairstyles, master skin and nail techniques, and offer excellent guest care. Our Summit Salon Academy partnered cosmetologist program allows our students to train alongside seasoned professionals while using Pivot Point methodology to learn cutting techniques and styling methods. 
IntelliTec's cosmetologist training program will secure your future in beauty services through 1695 clocked hours of training.
Check out the IntelliTec College Cosmetology Salons to see where you could soon be practicing your new skills.
Next Start Date: Jul 3rdCosmetologist IntelliTec College - Albuquerque 4575 San Mateo Blvd NE - Suite K Albuquerque NM USA 87109 Got the talent for making yourself and others look great? Get some professional training and build a career in the Beauty industry! IntelliTec College's Cosmetology program can help you make that dream a reality in only 15 months*.https://intellitec.edu/wp-content/uploads/2019/06/cosmetology-hero.jpgIntelliTec College
What Does a Cosmetologist Do?
Cosmetologists are the foundation of the beauty industry. They style and color all types of hair, provide manicures and pedicures, apply makeup, as well as skin care services. All of these skills are coupled with professional guest services. 

Job Opportunities for Cosmetologists
Salon Stylist
Full-Service Cosmetologist
Hair Color Specialist
Hair Stylist
Makeup Consultant and Technician
Theater/Stage Makeup Artist
Nail Technician
Manicurist/Pedicurist
Skin Care Specialist
Beauty Salon Owner/Manager
Day Spa Personal Care Advisor
Fashion or Image Consultant
Sales Representative
Product Company Representative
Retail Sales/Manufacturer Representative
State Inspector/Proctor for State Licensing Exam
and more!
I have been able to develop skills I never knew I would be capable of achieving. I actually want and am excited for my future.
Salary Potential for Cosmetologists
IntelliTec College provides career-training programs for entry-level positions. Salaries vary depending on geographic location, economic conditions, and willingness to relocate. Salaries by occupation and specific location can be found on the O*NET website. National figures for labor market activity, working conditions, and price changes in the economy are available from the Bureau of Labor Statistics. You can also visit the campus career services department to learn where IntelliTec College graduates work and the beginning salaries in their respective careers.
How Is the Job Outlook for the Next 10 Years?
The overall outlook for Cosmetologists is expected to be good. Many job openings will come from the need to replace workers who transfer to other occupations, retire, or leave the occupation for other reasons. Employment for Cosmetologists is projected to grow 19 percent from 2020 to 2030, faster than the average for all occupations. The demand for hair coloring, hair straightening, and other advanced hair treatments has grown in recent years, and that trend should continue.**
When Do Cosmetologists Usually Work?
Cosmetologists often work full-time, but part-time positions are quite common. The ones who choose to run their own salon could have long hours. Work schedules often include evenings and weekends, as those are the times when beauty salons are busiest. Self-employed Cosmetologists usually determine their own schedules.
Get All the Important Details
Cosmetologist Program
Graduates of the IntelliTec College Cosmetologist program will have developed the skills in a hands-on environment to function effectively as an entry-level cosmetologist working independently or as a member of a salon team. Graduates will be prepared to perform salon services including all aspects of hairstyling, professional facial and skin care, and nail services. Curriculum also includes an emphasis on business practices, marketing, and sales. Graduates will be prepared to sit for the Cosmetologist State Board Exam.
Locations:
Program length: 15 Months*
Award: Certificate
Clock hours: 1695
Credentialing Information: State Board Cosmetologist License exam  
During your time at IntelliTec College, develop hands-on skills by learning the following from licensed cosmetologists and/or former salon owners:
Cosmetologist training in hair styling and coloring, chemical texturizing, facial and skin care treatment, nail services and make-up techniques
Real-life client experience in the IntelliTec College Cosmetology Salon
Tools for the trade: You'll receive a complete cosmetologist's kit when you begin your program stocked with essential hairstyling, nail service and skin care items
Pivot Point methodology in hair cutting, styling, and treatment
The Summit Salon Academy business model educates students on the importance of personal communication in client retention and marketing when building a business
How to prepare for your Colorado State Board of Cosmetology exam.
Here's what will you learn in the Cosmetologist training program:
Industry Partners
The Salon at IntelliTec College is proud to use high-quality Redken products in our services.
The professional instructors in the IntelliTec College Cosmetologist training program use the Summit Salon Academy business model and Pivot Point methodology to train competent future Cosmetologists. Pivot Point methodology provides advanced technical skills training for hair coloring applications, cutting techniques, and styling methods. As part of their tuition, our student cosmetologists receive a kit and branded apparel. Students also enjoy the opportunity to showcase their skills at local shows. 
Is Hands-On Training for a Career as a Cosmetologist Right for You?
Get More Info…
If you're interested in exploring whether IntelliTec College's educational training programs for career opportunities in the world of cosmetology are right for you, fill out the form on this page to receive more information.
A helpful IntelliTec College Admissions Representative will be happy to answer any questions you have and can help with everything from determining the right career path for you to discussing financial aid options.
*Program length when completed in normal time. **According to the Bureau of Labor Statistics.