IntelliTec College Programs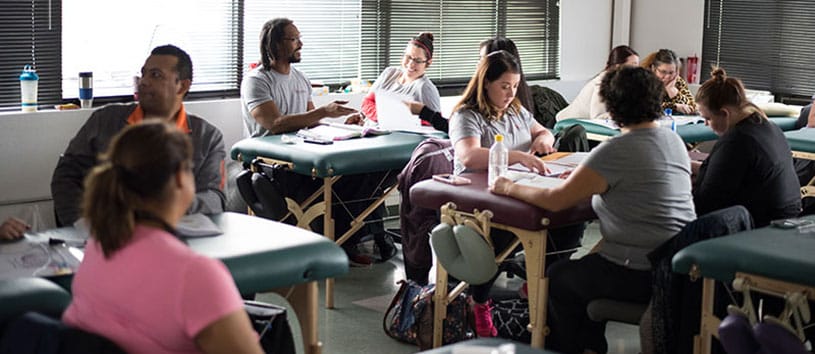 Start Training Now to Be Out There Working in as Little as 4 Weeks*
The world out there – let's be honest: it's challenging. The job market is quite competitive and finding good work without having some kind of training isn't easy. Some people go the university route, but that's really expensive and takes at least 4 years. And many university grads are having a hard time finding jobs to pay off that debt.
The smarter, quicker choice is to get targeted, hands-on training for a practical career. It costs a lot less than university and you have a much better chance at quickly starting your new career when you graduate with up-to-date and in-demand skills in growing industries.
Now Enrolling for All Classes
Show Me Where the Jobs Are
Some of the top industries to get career training in today are Automotive, IT, Beauty, Healthcare and HVAC. These industries continue to have good demand for skilled, trained workers.
At IntelliTec College, you can get hands-on career training that's focused on helping you find a good job, and you can do that in a relatively short time. Most of our programs can be completed in less than 12 months, and the Nursing Assistant courses can be completed in only 4 weeks.
And if you're going to get a degree, why not get the more practical Associate of Occupational Studies Degree, which only takes 18 months to complete instead of 4 years? We offer 18-month AOS Degrees for the Automotive Technician and Refrigeration & HVAC Technician programs.
Are There Campuses Near Me?
With three campuses in Colorado and one in Albuquerque, there's a career-focused program somewhere near you, so you could be starting classes really soon.
To determine what your first step should be, click on the program that interests you below to find out more.
*Our Nursing Assistant program runs for 4 weeks and can get you quickly set up for work. Other programs run longer than that.
Is Hands-On Training for a Rewarding Career Right for You? Get More Info…
If you're interested in exploring whether IntelliTec College's training programs and career opportunities in growing industries are right for you, fill out the form on this page to receive more information.
A helpful IntelliTec College Admissions Representative will be happy to answer any questions you have and can help with everything from determining the right career path for you to discussing financial aid options.