IntelliTec College Is All About Your Success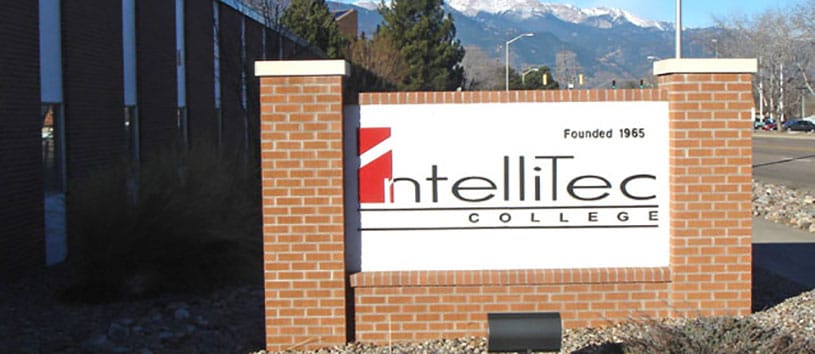 Your Hands-On College and Ticket to Change
Giving You What You Need to Make Positive Changes in Your Life Today
See if any of this sounds appealing to you:
An accredited college that has been around for decades
Programs that mirror the needs of the community
Industry-specific certification testing
Job placement assistance
Staff and faculty that work one-on-one with students to achieve personal and financial career goals
Programs that prepare you for a career in months or even weeks, not years
A school that gives back to its community
If that sounds like the kind of college you'd like to train at, you're going to love IntelliTec College, because that's what IntelliTec has always been about.
A Message from the Vice President of Operations
IntelliTec College is a group of growing, diverse campuses with staff and faculty that value the academic experience and take a personal interest in each student's progress. IntelliTec College established its first campus in Colorado Springs in 1965 as Technical Trades Institute, Inc., and has continued its academic excellence for over 50 years. IntelliTec continues to offer programs that directly mirror community needs.
Our primary focus is to provide students with personalized attention that includes hands-on training and experience, opportunities to complete industry-specific certification testing, and assistance in finding full-time careers for their chosen profession. Campus staff and faculty work directly with students on personal, financial, and career goals to ensure their success. This formula has allowed IntelliTec to help thousands of students realize rewarding careers.
To enhance the IntelliTec student's experience, IntelliTec College places a strong emphasis on community involvement. Our mission is to "Build a better community through quality and excellence in career training." Each year, the campuses participate in several local events. Through these efforts, IntelliTec College raises awareness for local causes and provides opportunities for students to make an impact in their career field and community.
I encourage you to talk with our admissions team and begin a new career today… we can't wait to have you become a part of our IntelliTec College Community!
Working For Your Success,
Wayne Zellner, II Vice President of Operations , IntelliTec College 
Our Mission
IntelliTec's mission is to, "Build a better community through quality and excellence in career training."
Become Part of Our Story…
In 1965, students enrolled at our first campus in Colorado Springs. The need for hands-on training with a focus on career-specific skills developed. Today, the Colorado Springs campus provides fast-track career training in several different disciplines to hundreds of students each year.
In 1984, an extension campus was established in Grand Junction, Colorado to offer Western Slope residents the opportunity to learn skills in demand for the growing needs of the area.
In 2000, under new ownership, we changed our name from Technical Trades Institute to IntelliTec College.
In 2005, we opened a branch campus of Grand Junction in Pueblo.
In 2015, IntelliTec College crossed the southern Colorado border and branched the Grand Junction campus into Albuquerque, New Mexico.
For more than 50 years, we have been trusted by students and employers to provide quality and excellence in hands-on training. We can't wait for you to be part of our story.
Our Community Services
IntelliTec College students, staff and faculty are active in their communities. Our campuses offer services to the community as a way for students to gain hands-on experience in their areas of study and for individuals to reach their academic goals.
Education & Professional Development Services
Mechanic IV Training Class: Carbon Monoxide Safety & Introduction to Combustion Analysis. Offered in Association with PPMCA, COSA, IntelliTec College in Colorado Springs and Pikes Peak Regional Building Department. Look for "Class & Events" on their web site.
Consumer/Personal Services
Hair, Skin and Nail Care Services: IntelliTec College Cosmetology Salons (Grand Junction and Pueblo)
Massage Therapy Services: IntelliTec College Massage Clinics (Albuquerque, Grand Junction Pueblo)
Dental Services: IntelliTec College Dental Services  (Grand Junction – Call (970) 245-8101 from Monday to Thursday, 8 am to 1 pm to schedule an appointment)
Campus Community
We try to build a strong campus community at IntelliTec College. From Spirit Days and fun food functions to milestone moments like graduation, memories will be made that will last you a lifetime. One way that students can get the most from their academic experience is to participate more deeply.
Student Ambassadors
Student Ambassadors are a group of students who not only care about academics but also their classmates and community. They have finished their first term with 90% attendance or better and have a minimum GPA of 3.0. They create a fun campus environment by acting as peer mentors and helping to maintain student resource programs. They also volunteer to represent IntelliTec College at campus and community events.
The Students Ambassadors program is available in Colorado Springs, Grand Junction and Pueblo.
Is Hands-On Training for a Rewarding Career Right for You? Get More Info…
If you're interested in exploring whether IntelliTec College's training programs and career opportunities in growing industries are right for you, fill out the form on this page to receive more information.
A helpful IntelliTec College Admissions Representative will be happy to answer any questions you have and can help with everything from determining the right career path for you to discussing financial aid options.