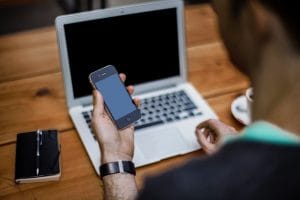 While plenty has changed over the past few years, one thing remains true: computers are not going away anytime soon.
Think back a decade or two. Consider the technology available at that time. Fast forward to today, and the leaps and bounds technology has achieve over time is astounding!
Since so much has changed in so few years, the need to keep up and know the ins and outs of technology is all the more necessary. In fact, many job candidates who lack experience with technology often find themselves overlooked for jobs.
The need for a firm grasp on technology has grown greater than ever, as our workplaces, homes, and lifestyles are centered around our smartphones and other devices.
Although the need to understand technology is important, many people do not. Especially when it comes to installing, fixing, and rebooting hardware, a person must have both the knowledge and patience to find the right solutions.
The Best Paying Careers Working with Computers
If you are considering a career as a computer systems technician, there has never been a better time. By earning a certificate in as little as 10.5 months, you can be on your way to starting a great career.
Additionally, the more you learn and the more certifications you receive, you can continue to climb up the ladder. Simply getting started by learning the basics allows you to build up your expertise and experience.
After earning your certificate, you can begin applying to jobs that deal with computers, technology, and networks. The Computer Systems Technician certificate is the first step in building a career that can lead to some great positions. By continuing to learn, grown, and earn additional certifications, you can achieve amazing things in your career.
Here are our top 5 favorite careers that computer systems technicians can eventually work towards upon completing the program:
Information Security Analysts
Especially within the past year, we have learned that cyber security is growing. From companies being hacked with valuable customer information being leaked, to interference by other countries in elections, the fear of cyber leaks and the need for cyber security has grown.
As an information security analyst, you will be on the front lines of identifying security breaches and hacks, finding ways to keep systems on lockdown and how to act when security is at risk.
With added training and recognition of security threats, you can continue to grow in your career, finding jobs at some of the world's largest companies. Many Fortune 500 companies, banks, and online retail stores rely on security for both the business and their customers.
Computer Support Specialists
Have you always enjoyed tinkering with objects and finding out how they work? Especially if you have a knack for fixing tech items like phones, computers, and tablets, a computer support specialist role could be a great fit for you.
Computer support specialists work within companies to ensure that all equipment is up and running, working smoothly and properly. From managing a company's hardware and data to implementing software changes and innovative solutions, a computer support specialist helps keep a company running.
Much more than simply "the tech guy" and a valuable asset to keeping a company efficient and successful, computer support specialists are always looking to the future, finding new ways to help companies be better. Not only that, but plenty of people in a company will turn to you for help, guidance, and your opinion for keeping IT needs updated and working.
Network Technician
A network technician also helps keep an office's technology up and running. However, unlike those who work exclusively with computers, a network technician focuses less on physical hardware and more on the network the hardware relies on each day.
The network technician ensures that company computers continue to interact with one another, that the network stays up and running, and that internet connection is maintained smoothly in the company.
Instead of working on specific computers, you are behind the scenes, allowing the network to be supported and strong. Because of network technicians, our access to larger networks and the internet is possible!
Mobile Device Specialist
Are you a tech lover who is always interested in the latest new phones, devices, and software updates? If you stay ahead of the curve and love learning about new technologies, consider becoming a mobile device specialist.
Not only do mobile device specialists help customers with their phones and tablets, but they often work for some of the world's largest companies. Apple, AT&T, Verizon, and other companies rely on mobile device specialists to assist customers and promote their products regularly.
With large companies come major benefits; working with these companies can result in great insurance, paid time off, sick leave, and more. If you are looking for a healthy work-life balance, a mobile device specialist could be a great path for you.
Technical Support Specialist
If you are a problem solver who loves helping others, consider becoming a technical support specialist. Each customer or coworker you assist brings a puzzle to you; it is your job to find the source of the problem, fix it, and make someone very happy!
Many of these jobs have been outsourced to other countries, but more and more American companies are looking for ways to bring them back. By investing in talented workers who have exceptional listening and communication skills, companies are finding that customers are incredibly pleased with the results.
Sometimes technical support specialist jobs can have alternative hours. If you are a night owl, many companies need night-time shifts to be covered. These shifts can sometimes offer higher pay, and can also leave you with your days free to do what you want.
Much like the other positions listed above, technical support specialists are a great way to dive into the tech and customer service field. You can continue to grow, learn, and find new things that interest you to increase your future income and job satisfaction.
Want a Great Career Working with Computers? Let's Get Started.
By starting a career in the tech industry today, there is nowhere to go but up! The continued demand for hardworking, smart workers will only grow in the years to come. Get in the door early, continue to learn, and, before you know it, you will be in a position as an expert.
IntelliTec's Computer Systems Technician certificate, offered at our Colorado Springs and Albuquerque campuses, gives you all the information and experience you need to begin applying to jobs in as little as 10.5 months. Not only will you earn a certificate, but you will get hands-on experience, connections with companies in the community, and the knowledge you need to keep earning certifications in your chosen field.
Start earning more while enjoying a satisfying career. Learn more about the Computer Systems Technician certificate, and then get prepared to apply to IntelliTec.