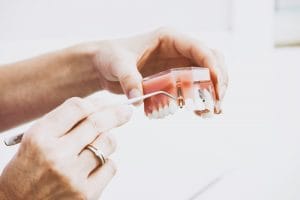 How many people can say that their job is to make people smile? Better yet, you can even be the person who makes smiles even better!
The dental field is one that is continually growing, finding new technologies to help patients and offering new services to improve smiles. Because of these new developments, dental assistant positions have continued to appear across the industry.
If you are interested in the dental field and want a great way to jump right in, training as a dental assistant is an excellent way to get started! But, you may wonder, what exactly does this job mean?
Learn more about this exciting field that promotes health and wellness for patients, while offering great work environments and flexibility for workers.
What is a Dental Assistant?
A Dental Assistant is a role that is essential to keeping the dental office moving. As the name implies, a dental assistant helps the dentist and dental hygienists with a host of important jobs throughout the day.
As an example, here is a picture of what a dental assistant would do when a patient comes in the office. First, the patient is called back to their seat, welcomed, and made comfortable by the dental assistant.
Depending upon the reason for the visit, the dental assistant can do a number of things. If it is a routine dental cleaning and check-up, the dental assistant may take the patient to have x-rays done. If the patient has come in for a mouth guard to be made for sporting activities, the dental assistant may take impressions of the patient's mouth.
Along the way, the dental assistant does a variety of tasks: chats with the patients; sterilizes the dental tools for cleanliness; updating dental records and patient information; taking notes for the dentist; and, generally, being nearby to answer questions and assist the dentist wherever possible.
What Does a Dental Assistant Do?
According to the American Dental Association, a dental assistant is one of the most "comprehensive and varied" positions you can choose in dentistry.
Since the dental field is one that requires a steady hand and an understanding of oral health, there is a lot of skill and knowledge that goes into starting this job. Patients can come into a dental office for a wide range of reasons. From toothaches to cosmetic procedures, a patient can turn to a dental assistant for more information and a greater understanding of treatment options.
The dental assistant, most commonly, is on hand to help dentists and dental hygienists perform their jobs efficiently and easily. Being nearby to hand over tools, to hold objects, and to instruct the patient allows the dental assistant to do small tasks to help the dentist do his or her job better.
Not only do dental assistants have to understand the technical side of the job, but they must also have an ability to care for other people. Although it is recommended that patients visit the dentist twice per year, every six months, did you know that many do not? Most people avoid the dentist because of fear.
Since this fear is a pretty common problem among patients, it is the role of the dental assistant to help provide a calm atmosphere and a great explanation of the processes happening. It is advantageous that the dental assistant is personable and kind, willing to make conversation and calm patients when they need it.
Why is a Dental Assistant a Great Career Choice?
Being a dental assistant means you have a few major perks:
Stability
Flexibility
Variety
Stability
A stable profession in a great setting, a dental assistant job is one you will look forward to each day.
With most jobs in small private practices or in larger clinics, dental assistants are greeted with nice working conditions and friendly faces. Since regular dental patients come in twice per year, dental assistants can get to know patients and establish a community feeling in the workplace.
Plus, getting hired as a dental assistant means you are an essential member of a dental team. Continue to bring your enthusiasm and energy to the job, and you will be rewarded with a long and fruitful career.
Flexibility
Dental offices are known for having great hours. With many offices closed on Fridays, weekends, and even some half-days, you can find a place to work that works best for your schedule.
If you are someone with a family, or you hope to have a family one day, dental offices give you the flexibility to still have a life outside of work, with normal opening and closing hours.
As an assistant, you may even be able to adjust hours accordingly to help fit your schedule. When you are ready to begin a job at a practice, hospital, or clinic, determine what your hours are and see if it is a good fit for you.
Variety
The work you do as a dental assistant is just as unique as every patient who walks in the door. There are so many different questions, treatments, and pains that a patient may bring to you – it is your job to listen, offer solutions, and be there to help the patient through it.
Since so many patients come in, all with different concerns, you can be sure that no day is ever the same as another. This variety allows you to feel engaged and excited for the day ahead, always knowing there is something new to learn and experience.
The more variety you have – whether it is in the work you do, the people you meet, or the settings you work in – the more you can grow in your profession. Continuing to learn as a dental assistant can pave the way to additional certifications and trainings, even moving up the ranks to become a dental hygienist.
How to Become a Dental Assistant
Becoming a dental assistant is as easy as applying to IntelliTec today.
Our dental assistant program is offered at our convenient Grand Junction location, and only takes 9 months to earn your certificate.
With your certificate in hand and your training under your belt, you can start an exciting career in the dental field. For the rest of your career, you will be surrounded by smiles from people of all ages and all backgrounds.
Start your dental assistant career today, and apply to our quick, convenient program.