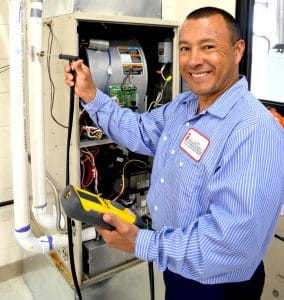 As summer starts to heat up, we are reminded of how essential it is to keep cool. Especially in the summer sunshine, we find respite in our cool homes and with our icy beverages, which make this wonderful time of year even better.
Have you ever given thought to the people who help keep us cool in the summer and warm in the winter? Imagine not having that perfectly air conditioned home after a hot, busy day running around town. Or what if your holiday party was ruined by a broken heater?
An industry that requires year-round maintenance and is in high demand, refrigeration and HVAC specialists are the heroes who keep homes, offices, schools, and more functioning and comfortable.
One of the most common questions we get, though, is what do these technicians do each day, and what is the program like at IntelliTec? We have outlined some of the most important information you will need to determine if this is the right career path for you!
What Do I Learn in HVAC Trade School?
IntelliTec only equips you with the information you need to be successful in the workplace. Rather than taking basic requirements and general education courses, you dive right into the real, hands-on work that your industry requires.
In our Refrigeration and HVAC program, you will do the following:
Train for entry-level employment, developing necessary skills for your new job
Develop computer skills needed for the latest in HVAC technologies
Get an HVAC-R toolkit, which includes the best brands and best quality products for your career
Take specialized classes that offer personal instruction, walking you through each step you need to know
Earn the skills and knowledge needed to pass industry certification tests
What Kind of People are HVAC Technicians?
Refrigeration and HVAC technicians are problem solvers. They are often met with people who need a fast solution, and they are ready to jump in and find the issue.
These people are often analytical and strategic, knowing just what to do when a problem arises. They aren't afraid to dig deeper and take the time necessary to get a job done the right way.
HVAC technicians and refrigeration specialists are friendly, meeting customers from all walks of life. Interacting with various types of people means being able to relate to others, hear their problems, and work efficiently to get their lives back to normal.
Some of the best customer service that an HVAC or refrigeration professional can provide is to be kind, be quick, and be thorough in finding a solution that lasts for the customer.
How Long is HVAC Trade School?
Depending on where you go to HVAC school and what type of degree you choose to earn, your program length can vary.
Not only is IntelliTec an accredited college, but our HVAC trade school program is designed to be completed in as few as 18 months. In less than two years, you will be ready to sit for your industry certification exams. Plus, our program results in an associate of occupational studies degree, rather than a certificate.
This degree builds the base for you to continue your education, earning additional certifications and specialities that will make you even more attractive to potential employers!
At IntelliTec, we operate on a rolling basis for enrollment, giving students the opportunity to start classes nearly every month. Instead of many schools that operate on a semester-long calendar, we offer classes to students that are convenient for their schedules.
What Careers Are Offered to HVAC Specialists?
Once you've completed your Refrigeration and HVAC degree program, what is next?
Starting a new career journey in the HVAC-R industry means you are open to many positions that the field needs. Some of these roles may include:
HVAC Service Technician
HVAC Control Technician
HVAC Mechanic & Installer
Refrigeration Technician
Refrigeration & Mechanic Installer
Air Pressure Technician
Air Conditioning Mechanic
Heating Equipment Technician
Facility Maintenance Technician
Environmental Maintenance Technician
From the list above, you see just how many directions your career can take you! Once you begin classes, you will quickly learn which career – in HVAC or refrigeration – makes the most sense for your interests and skills.
Learning in hands-on environment means you will never second guess the right job opportunity for you. Since you are learning by doing in our classrooms, you will never be surprised by the demands of working in the real world. We are here to prepare you for every step of your new career.