What is a Certified Nursing Assistant?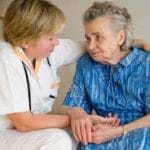 As a CNA, you'll be exposed to many members of the health care team: you get to see nurses, physical and occupational therapists, doctors, med techs, and assistants in action. You'll soon know whether you have what it takes to further yourself in nursing.
You'll also have an opportunity to gather experiences not often found in any other career, and take pride in a variety of accomplishments. Also, you'll make friends with people you would otherwise never meet.
Certified nursing assistants provide basic nursing duties for patients who are temporarily or permanently unable to care for themselves.
10 Reasons to become a CNA
1. Emotionally rewarding career – particularly for compassionate individuals who enjoy caring for people. The job may be demanding, but you can derive a sense of satisfaction from helping patients feel comfortable and loved.
2. Exposure to other health careers – you'll work closely with licensed/registered nurses and be able to watch these professionals daily to understand to their work, which is beneficial if you plan to advance to these positions in the future. You also have the opportunity to obtain professional guidance from them so you can make choices that are best for you.
3. Prerequisite for entry into a nursing program – some nursing schools limit admission to applicants who are certified CNAs with work experience or who are working towards obtaining a CNA certification. The experience prepares you for the level of work required of nursing students.
4. Benefits in a nursing course – if you decide to become a registered nurse, your school may apply your CNA experience towards some of the classes in the training program. This reduces the number of classes you need to take and may help you complete the program earlier.
5. Affordable training – training for CNAs is inexpensive when compared to training for other careers in the health industry. Contact one of our admissions reps who can help you get on your way to your degree in Nursing Assisting.
6. Short training programs – our CNA training program is designed to be completed in 4 weeks. Your  degree includes courses and hands-on training necessary to satisfy a mandate from the federal government in order for you to be completely qualified to begin a career upon graduation.
7. Varied work environments – CNA's can choose from various work settings, depending on personal preferences. For instance, the hospital environment offers structure and the opportunity to work with a variety of patients, while the private home environment allows you to work with one patient for a longer period.
8. Flexible schedules – CNAs typically work full-time schedules. However, because patients require care at all hours of the day and night, you can find a position that offers a flexible schedule.
9. Job outlook – The Bureau of Labor Statistics predicts a job growth of 29 percent between 2012 and 2022 for nurse assistants because of a growing population of aged individuals.
10. To accomplish something important in your life – you're making a difference in not only the lives of the patients that you help, but also their friends and families. When you help make peoples lives more comfortable, it can be a very rewarding experience. Plus, you help lighten the nurse's duties to enable them to see more patients.
Start a Nursing Assistant Career Today
The job is both demanding and highly rewarding. For those who believe their strengths lie in helping others, you'll find a degree as a Nurse's Assistant not only a fit for your current goals, but one that can pave the way for future goals.
We offer this professional certification, approved by The Colorado State Board of Nursing, at our Pueblo campus. After completing your program, you are then prepared to sit for the State Board of Nursing CNA certification exam. Get started in our nursing assistant program, designed to be completed in 4 weeks.
---
Sources:
http://www.nursingassistants.net/educational-articles/everything-you-want-to-know-about-being-a-cna/
http://work.chron.com/10-reasons-become-nursing-assistant-5554.html
http://voices.yahoo.com/four-good-reasons-certified-nursing-assistant-674039.html?cat=5
http://www.bls.gov/ooh/healthcare/medical-assistants.htm#tab-6