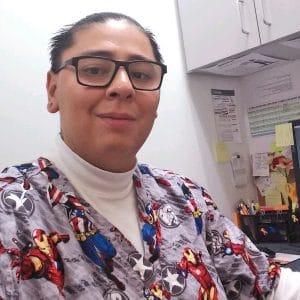 Young father sets an academic example for his children by going back to school for medical assisting degree.
Michael Ybarra wouldn't exactly describe himself as someone excited to return to the classroom. His previous challenges at school left him fearful of the idea of returning to the classroom, but his desire to leave his minimum wage job was even greater. After 10 years serving fast food, his wife and children inspired him to face his fears and enroll in the Medical Assistant program at IntelliTec College of Pueblo.
"My wife signed up for the same program at the same time. She was instrumental in convincing me that I could do this. Plus, I wanted my kids to know that I take my responsibilities as a father seriously, and that going back to school was the only way I could get ahead in life," explains Ybarra.
Ybarra's desire to become a medical assistant overshadowed his academic insecurities.
When Ybarra finished high school, he was certain it was the last he would ever see of a school environment. He is self-described as "anti-social" and always felt that other students judged him because he was not part of the popular crowd. However, Peggy Johnson, Medical Assistant Program Supervisor at IntelliTec College of Pueblo, describes Ybarra quite differently.
"Michael is a kind and respectful young man of character. He keeps to himself most times, remaining responsible to his school and his work, and it's obvious he cares deeply for his family," remarks Johnson.
His desire to become a medical assistant stems from a yearning to provide compassionate healthcare to the elderly and to give back to America's military veterans. He believes both groups deserve a type of "pay it forward" approach as these individuals have contributed to our country in their own unique ways.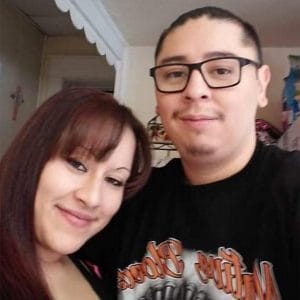 Medical Assisting program graduate lands full-time work with professionalism, a strong work ethic and initiative.
Ybarra served his externship with Sangre de Cristo Internal Medicine (SDCIM) in Pueblo while completing his Medical Assistant degree, and he was immediately offered a full-time position once completing classes and his externship. Johnson is not a bit surprised at the offer.
"Michael's ability to maintain a level of professionalism and respect in the workplace makes him a desirable employee. I can absolutely see how he is both equally liked and admired for his manner and hard work," says Johnson.
Dr. Douglas Duffee, MD, maintains SDCIM's small staff and believes it is imperative for the medical assistant to fit seamlessly into the culture of the office. According to Duffee, Ybarra was the clear choice.
"Michael communicates well on the phone and in the office, and he is able to manage a myriad of tasks. He's dependable, conscientious, learns quickly, and takes initiative – a very important trait in a smaller, multi-functional office," explains Duffee.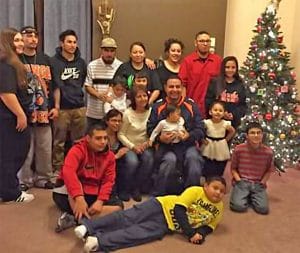 IntelliTec graduate credits parents in preventing him from following a potentially tragic path.
Michael gives a lot of credit for his work ethic to his mom and dad, who parented with equal parts of love and discipline. Ybarra is all too clear how his life could have taken a completely different path. Born and raised on the eastside of Pueblo came with inherent challenges of gang violence, and he witnessed first hand how children lacking proper parental modeling ended up on the streets or worse.
"My parents were my number one support through it all. I always knew I could count on them to step in whenever things became challenging," says Ybarra.
And step in they did, assisting with daycare and offering an incredible amount of help and comfort during the birth of his son, and the death of his mother-in-law. As Ybarra explains, it sure "put the brakes on things".
Pueblo dad hopes to have a positive influence on his children.
A lot has changed for Ybarra. He no longer has only five dollars left in his wallet after each pay period's bills. He looks to the future, particularly his children's futures, with confidence and determination.
"I want them to not be afraid of failure, because with failure comes opportunity. I really believe it's better to have failed than to have never tried at all," concludes Ybarra.
About IntelliTec College of Pueblo
IntelliTec College of Pueblo, CO offers hands-on career training in the technical trades, cosmetology, allied healthcare, massage therapy, and personal training fields. These programs award either associate degrees or certificates and are designed to be completed in as little as 18 months or less. IntelliTec provides a supportive learning environment with small classes sizes and caring instructors. Learn how you can improve your life with a meaningful career by requesting information at www.IntelliTec.edu or calling 719-542-3181.