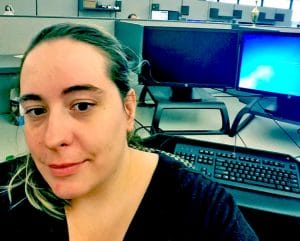 Computer Technician Graduate Believes: Better Care of Self Leads to Better Care of Others
Rebecca Annis' long-time massage therapy clients knew she had it in her to follow her dreams. Not that massage therapy was not a satisfying career for her. After 13 years in the industry she had a loyal client base and owned her own business. But she just needed the encouragement to turn her love of computers into a new career path where she could potentially earn more money and become part of a growing industry. And though she was hesitant to begin the Computer Network Systems Technician (CNST) program, when she finally leaned in, it turned out to be a perfect fit.
"To be honest, I had a bit of an attitude toward the idea of enrolling in a 'trade' school. I've always believed the more traditional colleges offered a stronger curriculum and employers looked to these schools when hiring employees," admits Annis.
Rebecca's Interviewing Confidence Leads to Job Offer from Progressive Insurance
It did not take long for that outlook to quickly change. Just a few weeks after graduation, Darlene Michaelis, Career Services Advisor at IntelliTec College in Colorado Springs, recommended she apply for a Help Desk position with Progressive Insurance in Colorado Springs. Annis worked with Michaelis on both phone and face-to-face interviewing skills, and she developed the necessary confidence to convince recruiters and managers to hire her. Plus, her previous call center experience, a 3.46 GPA and her initial A+ certification helped to seal the deal.
"She competed against four other graduates from IntelliTec who applied/interviewed for the job. She was the only one hired, and she was the only female IntelliTec graduate. Her experience, education and certification led recruiters and the hiring manager to quickly offer a position," says Michaelis.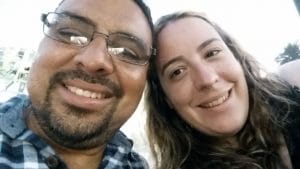 Information Technology Graduate Manages Academics and Time Constraints by Setting Small Goals
Though her initial classes began easily enough, the curriculum soon became a little overwhelming. Coursework included both the history of computers and current networking technology, and Annis acknowledges she began to miss class when she started feeling anxious. She very quickly discovered avoidance was not the answer.
She also felt the time constraints of full-time school and the needs of her massage clients. As a small business owner these demands sometimes pulled her in different directions simultaneously. She was determined to not let all the distractions lead her away from building a better life. Annis realized she needed to set smaller, more manageable goals in order to alleviate academic anxiety.
"Instructors and program supervisors were all very encouraging, advising me to break things down into manageable objectives. Attend class every day this week, read ten pages today, that sort of thing," says Annis.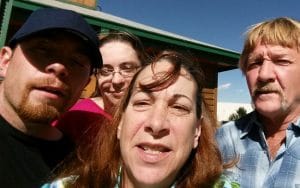 Annis Credits Family, Friends and IntelliTec Staff as Cornerstones of Support
Returning to school certainly had its challenges, and she admits to needing a hard poke in the ribs rather than soft, coddling words when feeling overwhelmed. Reality checks came from her program supervisor, Rick Butler, who believes the direct approach is the most effective approach.
"I'd tell her she could either choose to succeed or fall into mediocrity and self-defeat. She needed a clear purpose, direction, and motivation. I demanded more from her, and that – eventually – lit her up. She used that to go after certifications, one by one, which positioned her for a great job," tells Butler.
Annis looks to a future filled with new and exciting opportunities. She has plans to enroll online to earn a Bachelor of Science degree in Cyber Security, and she hopes to one day contract out her services on the federal, state and commercial levels. Though she continues to give the sporadic massage as time permits, she knows she will soon have to tuck away the table.
"I honestly don't think I would have pursued a career change without all the encouragement and belief in my abilities to take on a future in computers," acknowledges Annis.
About IntelliTec College in Colorado Springs
IntelliTec's Computer Network Systems Technician program offers an Associate of Occupational Studies Degree designed to be completed in 18 months. Qualified instructors teach entry-level IT skills and train students hands-on to install, configure and maintain computer network components.
IntelliTec College in Colorado Springs, CO offers hands-on career training in the technical trades, computer technology, allied health care and personal training fields. These programs award either associate degrees (occupational) or professional certificates and are designed to be completed in as little as 18 months or less. IntelliTec provides a supportive learning environment with small classes sizes and caring instructors. Learn how you can improve your life with a meaningful career by requesting information at www.IntelliTec.edu or calling 719-632-7626.