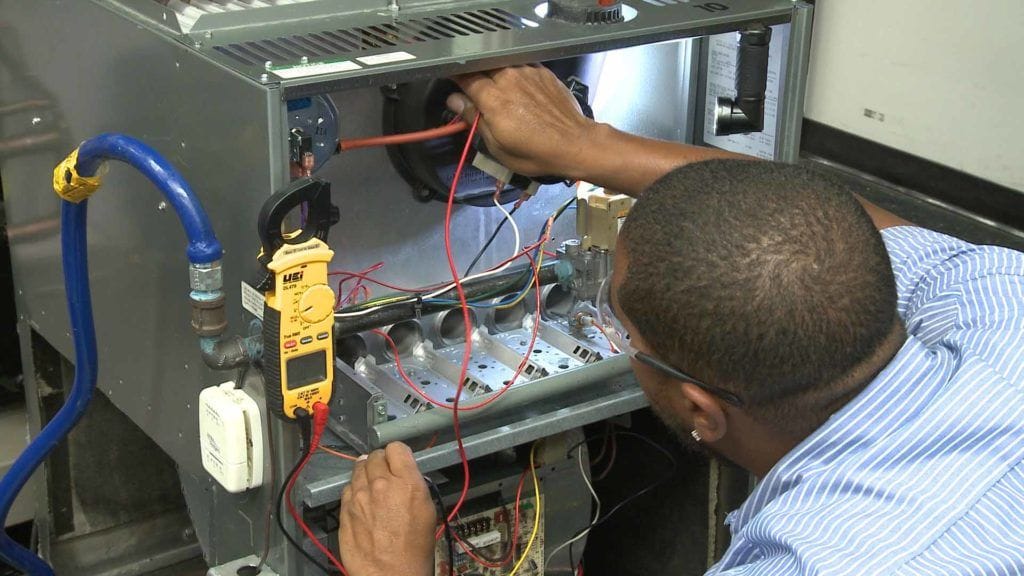 Skilled HVAC Technicians Are In High Demand.
For many students, going to college isn't the best option. This often has nothing to do with someone's intelligence or ability. Many people are simply better with their hands or may not be interested in a job working in an office.
There are a number of high-paying jobs that don't require a college education. For example, HVAC and HVACR technicians are in high demand.
Here is information about what these techs do, what types of jobs are available and what you can expect to make as a tech.
What Do HVAC Technicians Do?
HVAC stands for heating, ventilation and air conditioning. Most people who are HVAC techs work on heating and air conditioning systems in either private homes or businesses. Their job is to control the temperature and air quality in buildings. Some technicians work in hospitals or commercial buildings on complex systems.
HVAC technicians are important because they make sure that homes and buildings are comfortable. They are also responsible for keeping air quality high. When HVAC systems fail, it can lead to high power bills, rooms that are too hot or too cold and even illness.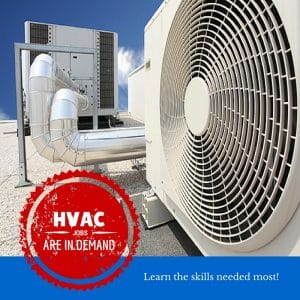 What Are the Most In-Demand HVAC Jobs?
Many technicians choose to focus on installing, maintaining or replacing HVAC systems. These are the most common types of HVAC jobs. However, most are familiar with all of these tasks. For HVAC installation technicians, the job usually involves connecting different systems. Installation techs may connect air ducts, heating and cooling units and water, and fuel lines.
HVAC Repair and maintenance technicians normally test that parts of a system are working. If things aren't working, broken items are replaced or repaired. Techs that do maintenance and repair may also adjust systems so that all rooms are heated and cooled evenly. They may also help keep systems from wasting energy.
Along with installation, maintenance, and repair, some people choose specialized jobs. These jobs usually require at least a few years working as a tech. People may also need more education or certifications.
Fabrication mechanics make ductwork and need to be able to use metal fabrication machinery. Another specialty job is working as an HVAC system designer. This job requires techs to use computers to create HVAC systems. People can get both of these jobs without going to a traditional four-year school.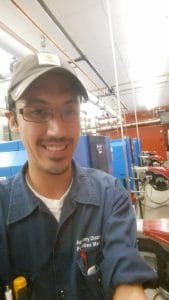 The Heating & Cooling Industry is Facing a Shortage of Qualified HVAC Technicians.
One of the many reasons to go into the HVAC field is that many businesses really need employees. A lot of jobs require a four-year degree. However, HVAC technicians can be trained in a much shorter time-frame. There is a shortage of HVAC technicians throughout the country, and Colorado is no exception.
Employers need about 29 days to fill jobs that are like HVAC jobs. For companies looking for HVAC techs, this can take more than 36 days.
What is Causing the Increased Demand for Techs?
There are three major reasons for the shortage of technicians. They are that people are retiring in large numbers, fewer young people are becoming techs and new technology requires more workers.
Workers are Retiring – One major issue is that baby boomers are retiring. This means that large numbers of experienced workers are leaving the workforce. It is estimated that about half of HVAC workers will retire in the next 10 years. Employers will have to replace old technicians and find new technicians as well.
People Assume the Best Jobs Require College – Many high school students aren't choosing to become HVAC techs. There is a perception that the only way to get a good job is to go to college. In fact, many HVAC technicians make as much or more than people who go to a four-year school. This is especially true after someone has been working as a tech for a few years.
New Technology Requires More Workers – Finally, there have been a number of new developments in HVAC systems. People are more interested in eco-friendly heating and cooling. Ductless systems and heat pumps have also been replacing old heating and cooling systems. New types of units require technicians to install and maintain them.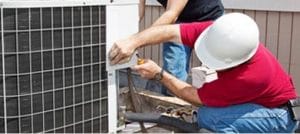 HVAC Career Benefits
There are a lot of benefits to being an HVAC technician. They include good pay, benefits and the ability to start a business.
It Pays Well – Many HVAC techs can make anywhere from $42,000 to $67,000 a year. Starting pay may be lower, but people can increase their income with overtime. During the hottest and coldest times of the year, a greater need for techs opens up extra hours.
Good Insurance and Benefits – HVAC technicians tend to have good benefits packages because they are in high demand. The benefits offered will depend on the employer, but health and dental are often included.
Job Security – HVAC techs don't normally have to worry about being laid off. Many other workers are being replaced by machines or seeing their jobs outsourced, but HVAC techs have good job security.
Work Environment – You have the opportunity to work indoors and outdoors, you will be on the go working at different locations, and no two days will be the same.
Business Ownership – A person also may find it easier to start his/her own business if he/she is an HVAC technician. About 16 percent of HVAC technicians run their own business. If you are interested in being your own boss, this may be the career for you.
Basic Requirements for Entering the HVAC Technician Field
There are only a few basic qualifications people need to start working or training as an HVAC tech. They include:
A high school diploma or GED
Being 18 years of age
Having a valid driver's license
Taking and passing a substance abuse test
Passing a basic math test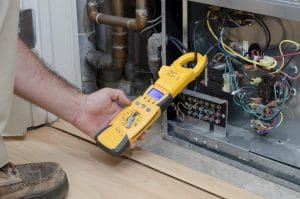 Do You Love Using Tools? A Helpful Skill for HVAC Technicians.
To do their jobs, technicians have to be familiar with using a variety of tools. Tools used are:
screwdrivers
wrenches
pipe cutters
Some people will also need to be familiar with more specialized tools. These can include:
voltmeters
combustion analyzers
carbon monoxide testers
acetylene torches
HVAC Technician Training School vs Apprenticeship
While there are a few ways to become an apprentice HVAC technician, most people now attend Refrigeration & HVAC Technician Training programs. This can be easier than being an apprentice. Apprenticeships normally last three to five years. Apprentices also make less money.
Which Vocational Schools Offer Training for HVAC Techs?
It is often a good idea to go to a vocational school or college. Schools like IntelliTec College in Colorado Springs offer programs just for Refrigeration & HVAC Techs. The programs can be completed in as few as 18 months and you earn an Associate of Occupational Studies Degree.
These programs can also help you prepare for professional certification tests and various licenses. Getting these can help you get a higher paying job right out of school.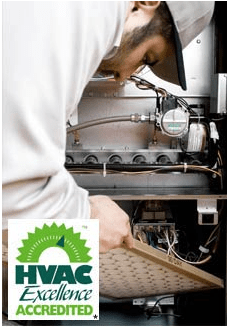 Look Into Becoming an HVAC Technician: Make a Short-term Investment for a Great Career
You don't have to spend years going to college to get a good job as an HVAC Technician, because:
There are a lot of job openings for HVAC techs in Colorado and the U.S.
These jobs pay as much or more than some jobs that require a four-year degree.
This career may also allow you to start your own business.
Sources
http://www.bls.gov/ooh/installation-maintenance-and-repair/heating-air-conditioning-and-refrigeration-mechanics-and-installers.htm
http://www.projectionscentral.com/
http://www.achrnews.com/articles/130625-over-100000-new-hvacr-techs-installers-needed-in-next-seven-years
https://www.hvac.com/blog/what-does-the-rising-demand-for-new-hvac-technicians-mean-for-employers