IntelliTec Albuquerque Now Offers Computer Network Systems Technician AOS Degree Program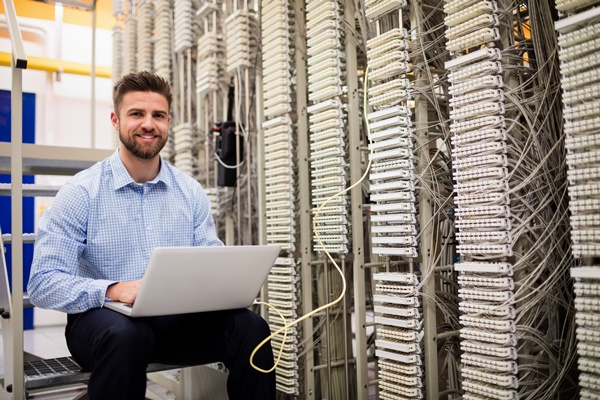 The world of business today is technological; everything depends upon computers, and businesses small and large rely on them. In industries ranging from healthcare to finance to military science, there is high demand for IT professionals who have the skills and knowledge to install, troubleshoot, and repair computers and their networks. IntelliTec College strives to provide training programs that prepare students for the careers that are in high demand in their communities, and IntelliTec Albuquerque is pleased to announce students can now enroll in a new Associate of Occupational Science degree program, Computer Network Systems Technician (CNST). With IntelliTec, students can train to enter this growing field in as few as 19 months!
The field of Information Technology remains one of the fastest growing sectors of the American economy, even during recent times of slower economic activity. Despite the economic slowdown caused by the COVID-19 pandemic, the United States Bureau of Labor Statistics reports that employment of IT professionals is projected to continue to grow, adding thousands of well-paying jobs to the economy. In September 2020, the BLS found that the average income for network and computer systems administrators was $63,460, which is significantly higher than the median annual wage for all occupations (BLS 9/11/20).
Workers with a computer and network systems background are highly employable, and these IT professionals may find employment in sectors all across the economy. In 2015, a survey by Burning Glass, a job market analytics firm, found that there were 7 million job openings that required coding skills; half of these openings were in industries outside of technology, including healthcare, manufacturing, and finance. Employers in fields such as these are increasingly seeking employees with coding and programming skills, and individuals who can demonstrate these skills and hold relevant professional certifications are in an excellent position to see their job options and salary-earning potential increase. 
If an IT career with a high potential for growth interests you, IntelliTec College has the program for you! IntelliTec Albuquerque's new Associate of Occupational Science, Computer Network Systems Technician (CNST) degree program can be completed in as few as 19 months. IntelliTec is a CompTIA authorized academy and is accredited through the Accrediting Commission of Career Schools and Colleges (ACCSC). The CNST is a hands-on program, taught by experienced industry professionals and designed to teach students the skills needed to be successful in a variety of IT careers. At IntelliTec, students learn to:
Build, upgrade, maintain, diagnose & troubleshoot computer hardware and software 

Design, implement, and manage network infrastructure

Utilize troubleshooting techniques and tools to effectively and efficiently resolve computer and operating systems issues

Solve systems and network connectivity issues and implement security practices

Install, configure, administer, and manage Windows Server systems 

Operate and administer computer systems running on Microsoft Windows and Linux platforms, including writing scripts in a shell environment

Understand network security fundamentals 

Develop end user support knowledge and processes
The CNST program is a full associate degree program, and requires 90-credit hours to complete. There are General Education courses required, including IntelliTec's Career and College Readiness course, as well as courses in business, leadership, and critical thinking. 
IntelliTec's CNST program is designed to prepare graduates to test for a portfolio of relevant professional certifications upon completion of the program. These certifications are recognized throughout the industry and highly valued by employers. IntelliTec prepares students to test for the following certifications:
CompTIA

IT Fundamentals

CompTIA A+ Certified Technician- Hardware and Software

CompTIA Network+ Certified Professional

CompTIA Security+ Certified Professional 

CompTIA Cloud+

Microsoft Technology Associate — Server and Linux Essentials
If you have excellent problem-solving skills and are excited about working with new technology, an IT career may be a good choice for you! IntelliTec's new Computer Network Systems Technician program can get you started in this growing field in just 19 months. Contact us today to speak with one of our friendly Admissions Representatives, who can answer your questions and even help you begin the enrollment process. Don't wait any longer to get started in your new career- make it happen with IntelliTec College!