Automotive Technician Degree Program Features Light Diesel Training, Snap-on Tools, and ASE Certification Preparation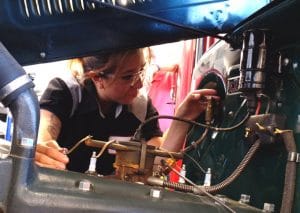 Press Release – For Immediate Release
Albuquerque, New Mexico – IntelliTec College will begin offering Automotive Technician training at its new campus located at 5001 Montgomery Blvd, Suite A24 (behind Burlington Coat Factory) in Albuquerque, NM. Classes began on August 24, 2015, with morning and evening classes available Monday – Thursday. Graduates of the program will earn their Associate of Occupational Studies degree, which is designed to take only 18 months to complete. Call 1-800-724-9636 to enroll or request additional information.
IntelliTec Students Train "Under the Hood" Everyday, Beginning with the First Class
"We offer open lab time (shop time) every day, where students can get additional assistance, practice a new skill, or work on a project. The goal of our program is to produce excellent automotive technicians in a market clamoring for properly trained people," according to Wayne Zellner, Campus Director.
Jim Gore, who comes to IntelliTec with almost 30 years of experience in the automotive industry (which includes multiple ASE Certifications), is supervising the program. His background as a technician, foreman, plant manager and instructor makes him uniquely qualified to supervise the shop and work with students in the classroom.
The 12,000 sq. ft. automotive training facility hosts six classrooms and four service bays outfitted with brand new Snap-On equipment. The bays are designed to teach students to diagnose and repair a number of automotive issues such as transmissions, electrical, steering and braking systems, suspension, balancing tires, and lube and oil.
Employers Demand Qualified and Skilled Automotive Technicians
Well-qualified automotive technicians use their experience and problem-solving skills to analyze problems, and the demand for advanced technical training is greater than ever. KnowYourParts.com indicates, "New powertrain technologies, hybrids, infotainment systems, electric powered vehicles and advanced engine design are just a few of the issues today's technicians face everyday."
Students Benefit from Engine Repair Training, Snap-on Partnership, and ASE Certification Preparation
Students will learn hands-on repair and diagnosis of diesel powered equipment, light-duty consumer trucks and diesel engines, and various manufacturers' engines. The program emphasizes general automotive repair training such as auto electronics, engine design, steering, suspension, brakes, transmissions, and power accessories.
They will train with Snap-on tools and receive a toolset and tool chest upon graduation. IntelliTec's Snap-on certified instructors teach students to use Snap-on's diagnostic platforms, which makes them more marketable to employers who use Snap-on tools.
Zellner stresses, "We put all our efforts into training ASE (Automotive Service Excellence) Certified Automotive Technicians. We are proud to be the only school in New Mexico with this focus."
 The average ASE certified technician has the equivalent of two years of an advanced engineering education. IntelliTec's Automotive Technology program offers ASE certification preparation in four test areas:
Brakes
Engine repair
Electrical/electronic systems
609-Refrigerant Recovery and Recycling
Job Placement Assistance and Accreditation
Career Services advisors help IntelliTec students and alumni prepare for today's competitive job market with specific job search strategies. They guide students and graduates on a wide range of job placement skills from writing effective cover letters to improving interviewing techniques.
According to Stacey Snyder, Associate Vice President of Admissions & Marketing, "We strongly encourage our students to contact our Career Services Department for job placement assistance. It's an ongoing service, with students receiving guidance developing professional skills such as resume writing, interviewing, and networking."
IntelliTec College, Albuquerque, is accredited by the ACCSC (Accrediting Commission of Career Schools and Colleges), approved by the New Mexico Department of Higher Education, Private Postsecondary Schools (PPS) Division and has made application for Veteran's educational benefits certification.
Financial Aid Services
Federal financial aid is available to those who qualify. Contact representatives to create a personalized financial plan and make funding education affordable.
About IntelliTec Colleges
IntelliTec Colleges has been providing hands-on career training in Automotive Technology with Associate of Occupational Studies degrees since 2005 at its three additional campus locations in Colorado: Colorado Springs, Pueblo, and Grand Junction. Federal financial aid is available to those who qualify. Request more information about our automotive technician training program in Albuquerque at: www.IntelliTec.edu or call: 1-800-724-9636.
CONTACTS:
Wayne Zellner
Campus Director
IntelliTec College in Albuquerque
(505) 818-8570
Jesse Stalker
Admissions Representative
IntelliTec College in Albuquerque
(505) 818-8570
###