Perseverance and a Positive Attitude Help Colorado Springs Student Excellence Award Winner Michael Coble Land a Job at Montana State University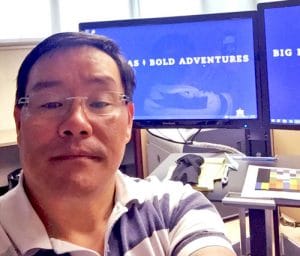 Life is filled with interesting twists and turns, and sometimes those turns lead you in the wrong direction. That's exactly what happened to Michael Coble. After retiring from a successful 21-year career in the army, he completed a degree in the automotive industry. But six months later he realized his new career just didn't suit him. "There wasn't anything wrong with the job, I just never felt it was the right one for me," Coble explained.
Coble's previous army interests led him to complete a degree in the Computer Network Systems Technician program at IntelliTec College in Colorado Springs. "When I initially joined the army it was to pay off loans," said Coble, "I stayed because it presented opportunities in telecommunications and IT, which I really enjoyed." However, he knew the IT industry focused more on the certifications than the experience, and that meant it was time to complete a degree.
Focus and Motivation Lead the Way to Student Excellence and a New Career
School wasn't something Coble particularly enjoyed in his earlier years, but everything changed once he started his computer networking classes. He performed well (averaging a 4.0 GPA), and enjoyed his college experience. "I had the most thorough instructor, Mr. Carl Porter, who made the content both interesting and completely understandable. I also felt like his teaching style suited me," said Coble.
Coble encourages students to start their job search well before graduation. "It's essential to do early job preparation," he stated, "I applied to a dozen or more IT jobs and was really starting to get frustrated." Then he began working with Darlene Michaelis, Career Services Advisor, and she pointed him in a different direction; even a different state.
"Frankly, we were both surprised when he got the interview [Support Analyst at Montana State University in Bozeman], because those jobs are typically already locked in, and the posting is just due diligence. So for him, an outsider, to be hired is actually very cool," Michaelis said.
Good Advice For All Students – Grades and Attendance Matter
Looking back, Coble recognizes the lessons he learned along the way. He urges students to remain focused. "Look at the big picture and remember what brought you to the school in the first place. How well you do in school, as well as your attendance, is a direct reflection of who you are, and employers pay attention to that," Coble said.
About IntelliTec College in Colorado Springs
IntelliTec's Computer Network Systems Technician training program is an Associate of Occupational Studies Degree that is designed to be completed in 18 months. Train hands-on in a CompTIA Authorized computer lab and learn the entry level IT skills necessary to become part of an IT department or work individually for a smaller business. Be prepared to sit for CompTIA, Microsoft and Cisco certification exams while also earning your degree.
IntelliTec College in Colorado Springs offers hands-on career training in the automotive technician, biomedical equipment repair technician, computer network systems technician, medical assistant, personal trainer and refrigeration & HVAC technician fields with associate degree (occupational) programs. Request information at www.IntelliTec.edu or call 800-724-9636.