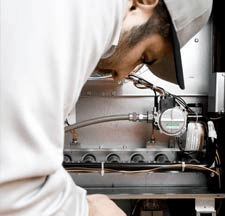 [boilerplate author-shivaun-martynes]
You've got a career as an HVAC Technician. Now it's time to figure out how to advance in your career. Of course knowledge, skill and experience are the keys to gaining advancement in any career. But here, IntelliTec's HVAC Program Supervisor Eric Seltenright reveals more about the specific steps you can take to make HVAC career advancement happen sooner.
What are the best jobs an experienced HVAC Technician can get?
How can HVAC grads advance their careers?
1. What are the best jobs an experienced HVAC Technician can get?
An experienced HVAC technician would have anywhere from 2 to 5 years of field experience in any section of the trade. If the experienced person is job searching, then the reason for the change is primary. Higher demand for experienced HVAC Techs allows for growth in wages, position, duties and possibly location. Lead Tech, Service Manager, Shop Foreman, Supervisor, Jobsite Superintendent, etc. are all possibilities.
An HVAC Tech that gets another job, just as a Technician, may have wanted to go to a company that had better opportunities for advancement, newer/different technology, larger base, better benefits, location and reputation – just to name a few. The basic equipment, consequently the job, remains the same with changes in size, application, technology and responsibilities.
2. How can HVAC grads advance their careers?
The first step is, of course, is getting that first job. A great resume that can be circulated along with applications is key. Any certifications obtained should be clearly noted and verifiable. Be prepared for the interview. Applicants are often tested both orally and in writing. Most employers will be more interested in your attendance than your grades.
If offered a job, do not turn it down because you feel it is below you. Remember, we all have to start some place. Gaining field or shop experience through exposure on the job is invaluable. Be the person that asks the question for better understanding.
Do not stagnate; keep moving toward your goal even if it means you may have to change employers or locations. If you are not being challenged, you are not advancing and learning. Technology is constantly changing, and a good technician is constantly learning. Be adaptive and do some of everything offered so you can broaden your knowledge and develop a sense of direction in what you can do and what you want to do.
Do not over extend your capabilities, and if you don't understand something: ask. Lots of help is at your fingertips including more experienced co-workers, the internet, textbooks, manufacturers, wholesalers, your supervisor and most importantly yourself. Yearn to learn and you will succeed.
In Summary
If HVAC career advancement is your goal, take this advice and put it into practice. You might be surprised how quickly you see results. Even if you don't see it happen right away, know that every step you make toward advancement in your HVAC career will eventually pay off.
About the Refrigeration & AC-HVAC Technician Program at IntelliTec College
IntelliTec's Refrigeration & AC-HVAC Technician program offered in Colorado Springs features: Associate of Occupational Studies Degree, hands-on training, industry-specific training equipment, preparation for professional certification(s), experienced instructors, small class sizes and career placement assistance.
[boilerplate about-colo-springs]