Article written by: Kaufman, Doug. Engine Builder Magazine, 2017
When it was launched in 2012, the Performance Engine Builder of the Year competition was Engine Builder magazine's attempt to celebrate the unsung heroes of the racing world.
"After all, the driver, the crew chief, the team owner – heck even the driver's dog – each get more TV time and fan recognition than the engine builder," explains Engine Builder publisher/editor Doug Kaufman. Kaufman says there is an old adage about winning races: "To finish first, you must first finish. A less familiar adage is 'You won't even start the race without an engine.'

"And even less known but even more important is this," Kaufman says: "If you don't know how to build an engine you're not going anywhere."
To honor his commitment to Engine Builder's third law, Dave Gorman, an Automotive Technician instructor at IntelliTec College in Colorado Springs, CO, was named the runner up in the magazine's competition sponsored by Federal-Mogul Motorparts' brands Speed-Pro POWERFORGED Pistons and Fel-Pro Performance Gaskets.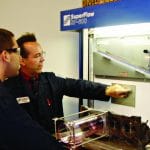 "I am honored to be selected as the runner-up in the 2016 Performance Engine Builder of the Year supported by Engine Builder magazine. To be one of the few automotive colleges to receive such an award is something I am very proud of," Gorman says.
The High Performance Engine Building Program at IntelliTec College in Colorado Springs started many years ago. This is Gorman's 20th year teaching automotive technology with the last 10 years being at IntelliTec College. Early in his career he saw a void in the automotive educational system, specifically in the high performance engine capacity.
"I looked at some curriculum at some post-secondary automotive schools around the country that were teaching high performance engines and it was very generic with no depth," Gorman says. "No scientific analysis or logic was being taught on when and why to install a certain high performance part. So I developed a 12-week HP program specifically on disassembly, design, blueprint and re-assembly, then fire-up with mostly domestic V8 engines that we have in-house on our running engine stands."

Gorman runs a 12-week program on disassembly, design, blueprint, re-assembly and fire up on domestic V8s. He
emphasizes the importance of supporting the future of this industry by working with today's young people.
The students learn how to calculate component selection through science analysis, logic and physical facts along with the ability to design and build 1000+ horsepower engines.
"One of my favorite engine builds was a car I drag raced for 27 years – A 1973 Plymouth Road Runner GTX with a supercharged-alcohol injected 440 that produced 1155 HP with a flat tappet camshaft and Edelbrock street heads. The heavy Plymouth ran mid 8-second 1/4 mile times @ 162 mph at sea level."
As expected with many teachers/instructors, the thrill of the job for Gorman is receiving positive feedback from the student body.
"The future of the high performance world is only getting better," he says. "You MUST be educated on designing and building high performance engines if the vehicle in question is going to perform up to expectations."
As part of his award, Federal-Mogul Motorparts and Engine Builder magazine donated a critical piece of test equipment to Gorman's program.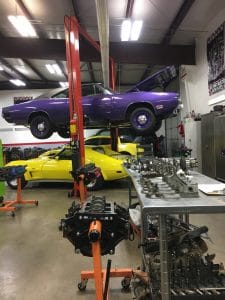 "This is a rapidly changing industry," explains Kaufman. "We are proud to support Dave Gorman's and IntelliTec College's commitment to equipping the next generation of passionate engine experts with the skills to be successful."
Kaufman, Doug. "Dave Gorman, 2016 Performance Engine Builder of the Year Runner Up." Engine Builder Magazine Jan. 2017: 16. Web.
[icitspot id="8774″][icitspot id="8776″]