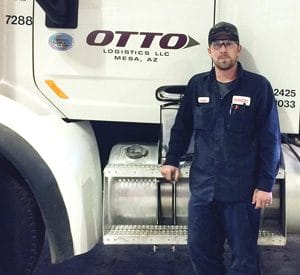 After Exiting a Career in the Military, John Sexton, Jr. Lands Job as Shop Foreman in Phoenix, AZ
Without a doubt, John Sexton, Jr. believes that setting priorities means getting things done. His scheduled approach allowed him work from 6:00 a.m. – 4:30 p.m., attend classes at IntelliTec College in Colorado Springs from 6:00 p.m. – 10:00 p.m., and still be a single parent to his young son while his wife was deployed to Afghanistan.
"I have to be honest – I was pretty overwhelmed. I contemplated dropping out, but my dad convinced me to soldier through. He understood that very few people who dropped out returned to finish their degree," recalls Sexton.
Career College Provides Valuable Hands-on Training and Unlocks New Career for Military Veteran in the Automotive Industry
Sexton originally attended a local community college, but he soon discovered it wasn't a "fit" for him. He felt frustrated by the fact that he had to take classes such as math, science and English. He was slightly intimidated since he did not score as high as he'd hoped on the placement exams. With his almost 16 years of experience as a heavy duty diesel technician, he felt like he was in high school all over again.
"I wanted to earn my degree because I knew that it would open more doors career-wise than just my experience. I really didn't want to take a bunch of electives that wouldn't translate into needed skills on-the-job," Sexton explains.
Auto Tech Graduate is Grateful for Instructor Support and Flexible Class Schedules
IntelliTec's Automotive Technician program offered John more than just the right degree. It gave him plenty of hands-on experience plus a large dose of support by caring instructors. Sexton encourages others to consider IntelliTec College, because the school has a system in place to assist anyone who is trying to earn their degree while also juggling a work and family life.
"Mr. Gorman [Instructor and Automotive Technician Program Supervisor] understood that my wife was deployed, and I was working and taking care of our two year-old. He assisted me with anything that I needed, and that meant the world to me. He really helped me through the hard times," comments Sexton.
Military Experience and Career-Focused Education Lands IntelliTec Graduate Employment in a Matter of Weeks
Finding employment was almost too easy for Sexton. Within two weeks of graduation he was offered a position with Superstition Trucks & Trailers in Phoenix, AZ – but not for the position to which he originally applied.
"I knew the demand was high for heavy duty diesel techs in Phoenix; that's why I waited to apply until I graduated and was available to start work. But at Superstition Trucks & Trailers, I applied for the tech job one day and was promoted to shop foreman the next day!" says Sexton.