Co-authors: Kayla Harper and Jason Sievert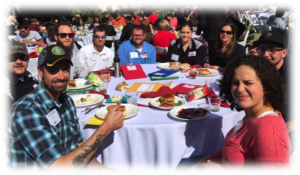 SkillsUSA Promotes Occupational and Leadership Skills Through Competition and Community Service Projects
SkillsUSA empowers its members to become world-class workers, leaders, and responsible American citizens. It improves the quality of America's skilled workforce through a structured program of citizenship, leadership, employability, technical and professional skills training.
SkillsUSA programs include local, state, and national competitions in which students demonstrate occupational and leadership skills. At the annual national-level SkillsUSA Championships, more than 6,000 students compete in 100 occupational and leadership skill areas. SkillsUSA programs also help to establish industry standards for job skill training in the lab and classroom as well as promoting community service.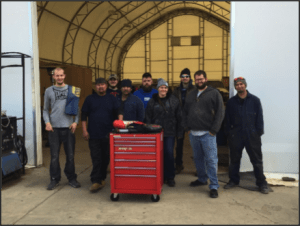 SkillsUSA IntelliTec Albuquerque Chapter Performs Community Service Project in Ruidoso, New Mexico
At IntelliTec College Albuquerque campus our students have just finished the steps necessary to receive their Chapter charter. In late October 2016, the chapter officers attended a state led leadership conference which aided in building their knowledge and growing their skills as professionals. The officer team returned from their conference and took the knowledge they had learned into their next meeting.
The result was the establishment of their first community service project, a perfect opportunity to use the student's leadership skills to serve the community and practice their technical skills repairing vehicles. The project was in Ruidoso, New Mexico where a small camp had a dozen or so automotive related projects that desperately needed completion. Albuquerque ITC answered the call and was able to accomplish almost every task at hand. They were so efficient they also had time to relax a bit.
Many projects were completed including:
installing a new muffler and tailpipe on a JCB 214 Backhoe, diagnosing a bad alternator, and fixing the wiring.
Students repaired a draw on the battery on one vehicle and a repaired another that was overheating.
Another vehicle had the fuel pump replaced and two others were diagnosed with bad cam sensors and repaired.
Overall we put in 108 man hours and saved the camp over $4000. They were immensely grateful for the student's effort and indicated they would love to have them back anytime. The students were very professional and all had a great time.
Future Plans for SkillsUSA IntelliTec Albuquerque Chapter
In the upcoming months, our students will prepare themselves for the New Mexico State Leadership and Skills Competition, a test of each students' level of knowledge in their field of study. Wherever they place, they will build greatly needed skills to succeed as students and professionals and force their competitors to perform at their best. The goal is to win Gold at the state level and move on to the National level.
There is much more to come from the SkillsUSA IntelliTec Albuquerque chapter. Through the next few months and years to come I expect this organization to celebrate the opportunities and challenges that may arise. We will see many triumphs and some failures, but ultimately we will learn from both.
More About SkillsUSA
SkillsUSA is a partnership of students, teachers and industry representatives working together to ensure America has a skilled workforce and helping each individual student to excel. The organization focuses on serving teachers and high school and college students who are preparing for careers in technical, skilled and service occupations, including health occupations and for further education. More than 300,000 students and advisors join SkillsUSA annually, organized into more than 18,000 sections and 52 state and territorial association and SkillsUSA has served more than 12.2 million members since its founding in 1965.
About IntelliTec College in Albuquerque
IntelliTec College in Albuquerque, NM offers hands-on career training for automotive technicians. This program awards an associate of occupational studies degree that is designed to be completed in 18 months. IntelliTec provides a supportive learning environment with small classes sizes and caring instructors. Learn how you can improve your life with a meaningful career by requesting information at www.IntelliTec.edu or calling 505-508-5225.  IntelliTec College is accredited by the Accrediting Commission of Career Schools and Colleges.