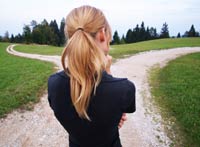 Learn How to Get a True Career After High School
A "career" is more than a job—it's a calling. A life-long vocation that not only gives a person a new level of respect among their peers, but allows them to provide for others. A career is about purpose, and having a place in this world. So why are so many young Americans no longer pursuing one?
High schoolers face daunting difficulties when planning for the future. It's hard to plan a career in a world that demands a four year degree as the price of admission. As a result, many young people begin working right out of high school.
What many don't know is that there is a third option—a way to have a real career without the substantial investment of a four year degree.
Think About Attending a Vocational School or Technical College
You can reach your career goals without going to a four-year college, and a vocational school can do this for you. By going to college for a shorter period – less than two years – you can increase your earnings over time and have an evolving career.
A vocational school (or sometimes called a trade or technical college) can give you:
The training you need for an in-demand career you will love in less than two years.
A way to start making money sooner than if you went to a four-year college.
A plan for your future. You can have a career where you can start making more money than you could have made with no college education. These careers also have advancement opportunities.
Career Options for High Schoolers Planning to Attend a Vocational School
If you decide getting an associate degree or certificate from a vocational or technical school in less than two years is the right decision for you, the next step is to pick a career path.
A large number of career choices exist in technical or vocational colleges, including:
Fun Careers – You may be surprised at how many careers are a lot of fun.
Careers That Are In Demand– Many of these careers are in fields that are in high demand right now, like nursing and welding.
Meaningful Careers – Some careers are in fields that are focused on helping and lifting up others, such as physical therapy.
1. Fun Careers
Whether a career is fun is a personal choice. What one person thinks is fun, another may totally dislike. Here are some careers that many students find enjoyable and a little information on them.
Personal Trainer – Those who choose this field are usually physically active and have a passion for physical fitness. They are up on all the latest trends in fitness. If you spend a lot of time in the gym, this may be the perfect career for you.
Cosmetologist – 

If you enjoy helping people feel beautiful, this may be the career for you. In this field you, can branch off into jobs such as Estheticians, who beautify and clean the skin, Nail Technicians who work on the client's nails, and Hair Stylists who manage hair cutting, coloring and styling.

Construction Manager – Those who choose this field usually begin by researching programs available at many two-year colleges. Training is often available through the construction industry associations.
Aviation Maintenance – If you are interested in repairing motors, but want something different to repair, this may be the career for you. It is best to attend one of 170 Aviation Maintenance Technician schools that the FAA has certified. This can lead to jobs at major airports across the nation, as well as jobs for the U.S. Armed Forces at military bases.
Air Traffic Controller – Although it is a very stressful job, those who work in this field totally enjoy the work. Those in this field have vigorous training and testing, including health and mental stability tests.
2. Careers That Are In Demand
There are always jobs that the majority of people cannot do for themselves. However, there is a need for someone to be able to help him or her. This is where the following jobs come in. Depending on geographic location, these jobs are almost always in demand, and their need is growing, especially in the IT (Information Technology) areas.
Computer and Network Systems Technician – If you enjoy tinkering around with computers and the way they work, a career in this field may be right for you. Most companies employ computer and network systems techs in order to assure that their networks are always up to speed and working correctly, especially in today's competitive world.
Automotive Technician – 

For those who enjoy working on their own cars, a job in this field might be the way to go. Many technical schools offer training in this field. You usually start your career working under the more experienced technicians. Sometimes, automobile manufacturers and dealers sponsor two-year associates programs where you take classes one week and work in the service department the next, alternating between the two.

Refrigeration and HVAC Technician – 

A career in this field includes working with heating, ventilation, air conditioning systems. Many trade and technical schools offer training in this field, and many times, the student is trained through apprenticeships.

Plumber – 

Those choosing this path for their career will rarely, if ever be out of work. At one time or another, almost everyone has to call a plumber. Technical schools or community colleges usually teach the skills needed to gain a license in this field. Apprenticeship programs are also encouraged. Many times, local unions or other national plumbing organizations offer them.

Electrician – 

Another in-demand career is that of an electrician. In today's world, everything runs on electricity, and so there will always be a need for someone to repair it when there are problems. Training in this field is offered in trade/technical schools, as well as in apprenticeship programs. Local unions such as the National Electrical Contractors Association often sponsor the apprenticeship programs, and they offer pay for on-the-job training.
3. Meaningful Careers
For those students who enjoy working with people and helping them in their daily lives, the following careers may be of interest:
Medical Assistant – A medical assistant works in the offices of hospitals, doctors and other types of healthcare facilities. They complete tasks such as measuring vital signs, recording patient information, giving patients injections and preparing blood samples for various lab tests.
Nursing Assistant – 

A nursing assistant will provide basic care for patients who are in the hospital or in a long-term facility, such as a nursing home. They help clean and bathe patients, dress the patients, help transfer the patients between their bed and wheelchairs, just to name a few of their duties.

Pharmacy Technician – 

Those who are interested in medications and how they can help their customers might enjoy this career. Pharmacy technicians help the pharmacists to collect information to fill prescriptions, measure amounts of medication for the prescriptions and disperse medication to customers. They also help organize the inventory and let pharmacists know if there are any shortages.

Dental Assistant – 

Those who are interested in the study of dentistry may enjoy a career as a dental assistant. Dental assistants have many duties, such as preparing the patient for their treatments, handing the dentist the dental instruments, keeping the patient's mouths dry using the suction hoses and processing x-rays and other lab tasks, to name a few.

Massage Therapist – 

Another popular field is massage therapy. The massage therapist uses touch to manipulate the soft tissues of the body, such as the muscles. They can help to relieve pain, improve circulation, heal injuries and relieve stress in their patients, along with other benefits.
Other Career Ideas – Career Options That Don't Need a Four-Year College Degree
Listed below are a few other career choices that a high school student might find interesting:
Real Estate Broker
Landscape Architect
Freelance Photographer
Freelance Writer
Online Advertising Manager
Web Developer
Paralegal Assistant
Stenographer-Court Reporter
Construction Machine Operator
Teacher's Aide
Consider Training at a Technical College for an In-Demand Trades Career in Less than Two Years
As you can see, there are many careers to choose from if going to a four-year college is not in your plans. It is important that you explore your career options thoroughly, including a 2 year college degree or professional certificate in an in-demand trades career. There is something for almost everyone.
The good news is, if you put the time and effort into making it in one of the careers above, many times you can earn the same, or, in many cases, more than a student with a four-year degree. If you are able to train for a job that you really love, you will be successful.
Sources Used
https://intellitec.edu/
http://www.bls.gov/ooh/healthcare/mobile/medical-assistants.htm
http://www.bls.gov/ooh/healthcare/mobile/nursing-assistants.htm
http://www.bls.gov/ooh/healthcare/mobile/pharmacy-technicians.htm
http://www.bls.gov/ooh/healthcare/mobile/dental-assistants.htm
http://www.bls.gov/ooh/healthcare/massage-therapists.htm
http://www.collegesanddegrees.com/programs/cosmetology/career-education-overview
https://chooseyourfuture.cps.edu/high-school-college-career/preparing-for-college-career/career-preparation/
http://www.trade-schools.net/articles/fun-jobs-that-pay-well.asp
Is College Overrated? The Top 21 Highest Paying Jobs with NO College Degree
http://www.aol.com/article/2011/10/04/six-skilled-labor-jobs/20039165/
http://www.careercast.com/jobs-rated/20-great-jobs-without-college-degree