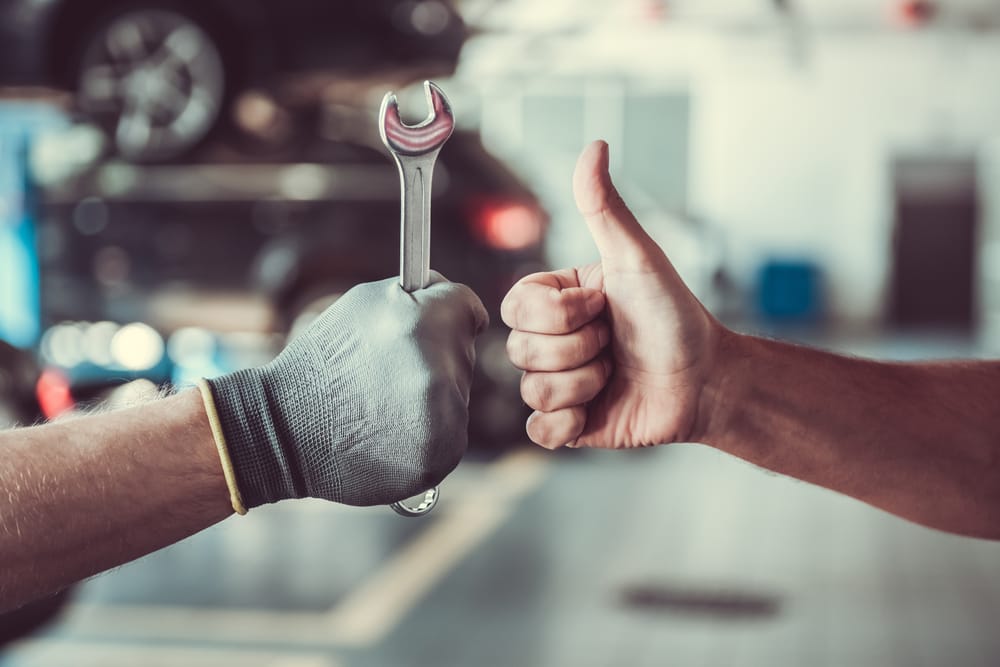 Would you love to spend your days working on cars and helping people get more from their vehicles?
If so, take a moment to learn what you need to do to become an automotive technician. You may discover that this job would provide you with the perfect career.
Automotive Technician Job Description
Before we talk about the path required to enter this field, let's quickly cover the typical automotive technician job description to make sure we're all on the same page.
Working as an automotive technician will usually involve diagnosing what's wrong with a customer's vehicle and then carrying out the necessary work to repair it. You'll also spend a lot of time doing preventative maintenance (e.g. changing oil, rotating tires, replacing brake pads, etc.).
Today's Automotive Technicians: More Than Mechanics
In the past, most people referred to automotive technicians as "mechanics." After all, the work they did was solely focused on the mechanical components of the vehicle.
That's no longer the case, though.
To become an automotive technician these days, you also need to learn about computers. For one thing, modern vehicles are full of technology, which means working on them requires understanding how to work on their computers, too.
At the same time, computers are regularly used to run diagnostics on vehicles, as well. You can simply hook up one of these devices to most vehicles and immediately receive information about what may be hindering its normal performance.
Learning from Experienced Technicians
Nonetheless, despite how helpful computers have become, today's automotive technicians still require an in-depth understanding of how vehicles work in order to repair and maintain them.
This is why it's so important to learn about this from experienced automotive technicians. Textbooks and video tutorials can only tell you so much. You want to hear firsthand from people who have worked in this field for years. They will help you better understand the inner-workings of automobiles – and the tools required to work on them – and give you all kinds of advice that can only come from a veteran.
How Long Does It Take to Become an Automotive Technician?
You have two options for becoming an automotive technician.
First, you can earn your Associate of Occupational Studies degree, which will take 18 months to complete at either our Albuquerque or Colorado Springs campuses.
Second, you can earn your Automotive Technician Certificate. This requires just 10.5 months and can be done at our Grand Junction or Pueblo campuses.
What Your Training Will Involve
Obviously, you'll cover a lot of information during either of the two courses we just mentioned.
Still, here is a good summary of what you'll be doing in those classes in order to acquire the skills you need to secure work and serve your customers:
Hands-on training with Snap-on tools and diagnostics
Going through the process of designing and assembling a high-performance engine (only offered at our Colorado Springs campus)
Learning to repair light-diesel engines (only offered at our Albuquerque campus)
Receiving personalized training from ASE and Snap-on certified technicians
Preparing to sit for your certification exams, including those focused on ASE and Snap-on
Potential Careers for Automotive Technicians
Once you become an automotive technician, you'll find a massive, diverse field awaiting you. There is no lack of options for people who have earned your credentials.
Here are just some of the many roles you'll be able to consider in the automotive industry.
Battery Mechanic
Collision Repair Assistant
Lube Technician
Parts Specialist
Tire Repair Technician
5 Steps to Become a Master Technician
No matter what specific field you decide to enter, if you're like many, your goal may be to eventually become a Master Technician.
This would require at least two years of documented experience working hands-on as a technician and passing a series of tests.
Here is a brief outline of the five steps involved.
1. Graduate from High School or Achieve Your GED.
Step one is pretty straightforward. Before you can sign up for a certificate or degree program, you need your high school diploma or a GED.
2. Enroll in a Program.
Next, you need to enroll in one of the aforementioned programs. These will teach you about repairs, electronics, computers, and everything else required to work on modern vehicles.
3. Complete Your Academic Program.
Once you have successfully completed your programs, you'll be ready to sit for your exams and earn the certificate you need to actually become an automotive technician.
4. Receive Further Training with Your First Employer.
That doesn't mean your training is completely over, though. Your first job will most likely begin with further training. Experienced technicians will help you apply everything you've learned in a real-world environment (this is much easier when you've already received hands-on training from experienced instructors). They'll also help you understand how their specific team works as a unit.
This kind of mentorship will most likely continue throughout your first year, which means you'll continue learning while you're making money.
5. Work Toward Becoming a Master Technician.
As we mentioned above, once you've spent two years in the field working on vehicles, you can become a master technician. You must also become certified in all specialty areas covered by Automotive Excellence. These are:
Automatic Transmission/Transaxle
Suspension and Steering
Light Vehicle Diesel Engines
Heating and Air Conditioning
Brakes
Electrical/Electronic Systems
Engine Repair
Manual Drive Train and Axles
Engine Performance
These are the tests you'll need to pass to become a certified Master Technician in automobiles, but there are also tests for the same certification in medium/heavy trucks, transit buses, school buses, and others. So you can focus on the type of vehicle you prefer most.
Start Your Journey to Become an Automotive Technician
As you can see, it will take time and hard work to become an automotive technician, but if you like working with vehicles, it's hard to think of a better job. So long as people need vehicles to get around, your skills will always be in demand, too.
At IntelliTec, we'd love to guide you on your path. To learn more about how to become an automotive technician, contact us today and we'll send you all the information you need.