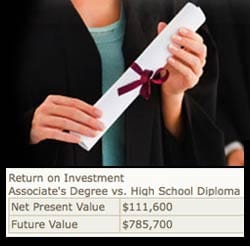 Associate degrees have increased in popularity for the last 20 years.
You May Be a Candidate for an Associate's Degree if You…
Know that your chosen career requires an associate degree.
Have no college experience but are certain you want to earn a full-fledged degree as quickly and cost effectively as possible.
Different colleges will require slightly different programs of study. Compare degree requirements at different schools carefully when selecting the best associate degree for your situation.
What About the Cost of an Associate's Degree?
"Even after factoring in the costs that graduates incur when earning the degree, the associate's degree is a good investment," according to authors Jorge Klor de Alva, president of Nexus Research and Policy Center, and Mark Schneider, president of College Measures and an AIR Fellow and vice president.
On average, students with an associate's degrees earn more income than high school graduates and are less likely to be unemployed, even in harsh economic times. In addition to opportunities for an increased salary, take a look at a number of other reasons to complete your associate's degree.
12 Reasons Why an Associate's Degree Might be Right For You
Hands-on training in small classrooms allows one-on-one instructor attention.
Specialized programs prepare students for a specific trade.
Externships are often included in technical college programs, which offer valuable, real-world experience to students.
Tuition includes everything a student will need throughout the length of the program, like books, miscellaneous fees, lab tools and other necessary supplies.
An associate's degree can be completed in less than two years; classes focus on core competencies with minimal general education classes.
Classes begin more frequently throughout the year, offering a number of start times.
Campuses are typically located in the center of town, and students can live at home, saving money on room and board.
Offers unique and flexible opportunities for working students and students with families.
An associate's degree can open doors to professional growth and career opportunities.
Instructors are usually highly skilled, experienced and connected in the fields they teach, offering a wealth of knowledge.
Career Services assistance is available before and after graduation.
Students can be prepared to sit for the industry certification exams in their specific fields of study.
IntelliTec Colleges offers a variety of career-focused training in allied health care, business, and technology leading to an Associate of Occupational Studies Degree.
Earn your Associate of Occupational Studies Degree at any one of our campuses:
Colorado Springs:  Automotive Technician, Biomedical Equipment Technician, Computer and Network Systems Technician, Health Information Technician, Medical Assistant, Personal Trainer, Refrigeration-HVAC
Pueblo: Automotive Technician, Personal Trainer, Business Office Administration and Accounting, Health Information Technician, Medical Assistant
Grand Junction: Automotive Technician, Pharmacy Technician, Business Office Administration and Accounting, Medical Assistant
Summary
There are many advantages to getting an associate degree, from the flexibility of working at your own pace to the ability to earn a quality education from the convenience of your own home. Check out IntelliTec College's Programs and campuses and find the career path and the right place for you to earn your Associate's Degree.
Sources
"What Is an Associate Degree?" GetEducated.com. N.p., n.d. Web. 19 Aug. 2014.
"High-Paying Jobs with an Associate's Degree." Nine High-Paying Jobs You Can Get with an Associate's Degree. N.p., n.d. Web. 19 Aug. 2014.
"Associates." Degreecom. N.p., n.d. Web. 19 Aug. 2014.
"Return on Investment for Associate's Degrees Can Be High for Graduates." American Institutes for Research RSS. N.p., n.d. Web. 19 Aug. 2014.
"High School vs Associate Degree Earnings." The Value of a College Degree. N.p., n.d. Web. 19 Aug. 2014.