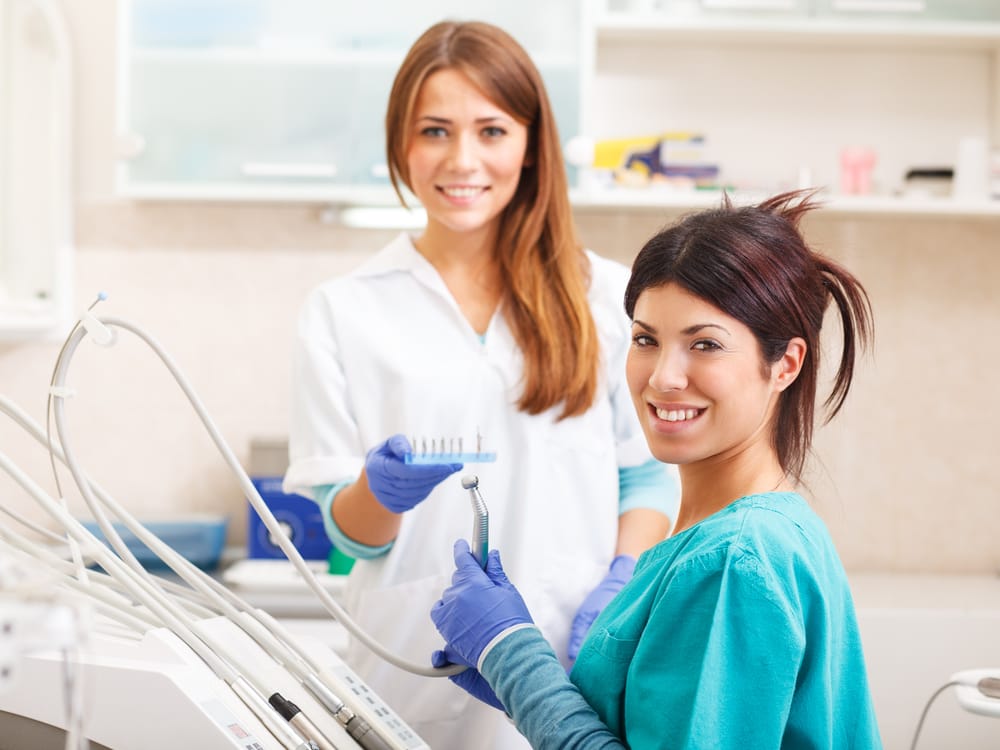 Do you have a strong desire to do something with your life that involves helping others?
Are you friendly and have the ability to put nervous people at ease?
Do you get bored easily and would prefer to spend your days working at a job with variety?
If so, you'd probably make a really good dental assistant. In this role, you'll stay busy throughout the day and most of what you do will directly contribute to the happiness and comfort of others.
Dental Assistant Job Description
As a patient, you've probably only ever seen a dental assistant help the dentist while they work on improving your smile and your overall dental hygiene.
However, dental assistants do much more than that, including:
Preparing patients, sterilizing or disinfecting instruments, setting up instrument trays, preparing materials, and assisting dentists during dental procedures.
Recording treatment information in patient records.
Exposing dental diagnostic x-rays.
Taking and recording medical and dental histories and vital signs of patients.
Assisting dentists in the management of medical or dental emergencies.
In this role, you'll also be expected to perform a number of tasks related to patient care. Aside from the functions we just mentioned, this may involve doing lab work behind the scenes, as well. You'll be responsible for many of the tasks required to keep the office running on a daily basis, too.
Keep in mind that every practice will be different.
While you'll definitely be working with patients every day, the rest of your job description as a dental assistant will depend on the unique requirements of your employer.
If you think this is the career for you, then contact us today and we'll give you even more information about our certification programs and how they'll set you up for success.
Dental Hygienist vs. Dental Assistant
One important distinction we should make right away is between a dental hygienist and a dental assistant as these two roles are regularly confused.
Despite the common misconception, as a dental assistant, you won't actually be in charge of cleaning anyone's teeth. That's the major difference between a dental hygienist and a dental assistant. As the name suggests, the former is responsible for cleaning and scaling patients' teeth.
That's not the only difference, though.
Another important one to consider is how much longer it takes to become a dental hygienist. While you can earn your dental assistant certification from IntelliTec in as little as nine months and begin working as soon as you pass your exams, becoming a dental hygienist typically takes at least two years.
A Day in the Life of a Dental Assistant
To better help you decide if you'd be happy working as a dental assistant, let's take a look at what most employees in this field do on an average day.
Average Hours for Dental Assistants
Most dental assistants work "regular hours," meaning Monday through Friday, from 9 to 5. Of course, as we just mentioned, every dental practice is a bit different.
However, most aren't open on the weekends, so you shouldn't have to worry about coming in on Saturday and Sunday. Most aren't open past five, either. While you may occasionally need to stay until six or so depending on the day's schedule, dental assistants typically don't "burn the midnight oil."
You can expect most holidays off, as well.
This type of stable, predictable schedule is one of the best parts of working in this field. While you still get to help people in a very important way, you don't have to suffer through the long working hours that are considered just a normal part of other medical fields.
Assisting the Patient with Dental Care
Obviously, as a dental assistant, you'll be called upon to regularly assist the dentist. While this doesn't involve cleaning patients' teeth, it will involve regular tasks like:
Coronal Polishes
Creating Impressions for Mouth Guards
Creating Impressions for Bleach Trays
Taking Full-Mouth and Panoramic X-Rays
It will also be your job to help keep the patient at ease.
As you probably know, many people worry about going to the dentist and become quite anxious once they're finally there. Your job will involve making the right first impression with patients, one that helps keep them calm and answers any questions they may have.
Running the Office
Dental offices can quickly fall into chaos if they aren't being run with the proper care.
So another big part of your job will be supporting the entire operation. This will involve everything from setting appointments, to preparing the room before the patient arrives, to maintaining the daily schedule, and much more.
You'll be the eyes and ears of the practice, which is one of the reasons dental assistants are held in such high regard.
Would You Make a Good Dental Assistant?
The most important qualification for this job is that you truly want to help other people. Oral hygiene and appearance are both extremely important, yet some people don't prioritize them because they're nervous about visiting the dentist's office. If you're good with people, you'll become invaluable to your employer.
Organizational skills are vital, as well. Again, you'll be largely responsible for keeping the office humming along all day and being there when the dentist needs you. People who are great at multitasking – or even enjoy it – typically fit in well.
Although you'll sit down when you're with patients or doing lab work or paperwork, you'll be up on your feet for the rest of the day. If you could never see yourself sitting down all day at a desk or even standing in the same place for long periods of time, you'll love this aspect of working as a dental assistant.
Common Fields for Dental Assistants
So far, we've described the most common field for a dental assistant, which is working in a practice alongside dentists and helping with other day-to-day tasks, including lab work.
That's not the only job available to certified dental assistants, though.
You could also work exclusively in dental labs. Many certified dental assistants go on to specialize in selling certain types of equipment and products.
After you've gained enough real-world experience, you may also be qualified to teach others or could serve any of a number of different state or national professional associates dedicated to this field.
Are You Thinking About Becoming a Dental Assistant?
Now that you have a better idea of what it's like to work as a dental assistant, are you excited to take the next step toward this fun and rewarding career path?
If so, contact us today. We'll send you even more information to help ensure you're making the right decision and will also be happy to answer any questions you may have before moving forward.