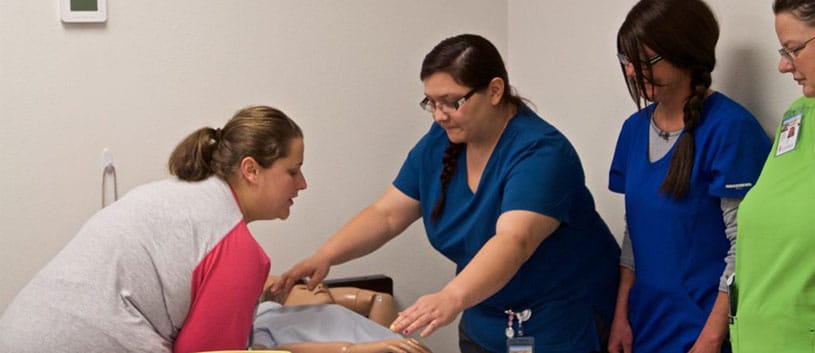 For individuals who truly care about helping others and are motivated to work hard in a career with plenty of potential for growth and advancement, medical careers are a great option. IntelliTec College offers a Nursing Assistant training program, offering students the opportunity to get started in an entry-level healthcare career in as few as 4 weeks!
Why should you train to be a Nursing Assistant? There are great reasons to pursue a career in healthcare. As a Nursing Assistant you will be able to help others in a truly rewarding way. Careers in the medical field also garner respect, and offer flexibility, good compensation, and the opportunity for advancement. Read on to find out more about some of the great reasons to pursue a medical career as a Nursing Assistant. 
 Interesting work –

Medical careers are not desk jobs! As a Nursing Assistant you will not be sitting at a desk staring at a computer screen all day. Nursing Assistants are continuously on their feet, moving from one patient to another. Every day you will encounter new challenges and opportunities for growth.
Professional development opportunities –

Speaking of growth, as a Nursing Assistant you are continuously learning and developing your patient-care capabilities. No day is ever the same, and Nursing Assistants are likely to learn something new on the job every day. This is a career with ample opportunities for on-the-job training and continual professional development.
A job that makes a difference –

Nursing Assistants do more than give medicine and treat wounds; they care about the patients they treat, helping them improve their lives and health outcomes. As a Nursing Assistant, you will have the chance to leave a positive mark on someone's life every day.
Well-respected work –

Nurses have long held the reputation of being compassionate healers and capable care providers. Nurses consistently rank highly in Gallup research polls for honesty and ethical standards among various fields. In 2016,

nurses topped the list

with 84% of the public rating their standards as "high" or "very high," a position the profession has held for the past 15 years. Nursing Assistants are valuable members of this respected group of medical professionals.
Flexible work schedule –

As a Nursing Assistant you will likely work shifts. Many people in this line of work love the flexibility of designing a schedule that works for them, and working parents find it an excellent fit for their busy lifestyle. Nursing Assistants can work nights, weekends, and holidays. If a traditional work schedule is more appealing to you, you can often find what you're looking for by working at a clinic or physician's office.
To become a Nursing Assistant it is necessary to attend a quality, board-approved training program. IntelliTec College offers a Nursing Assistant program, approved through the Colorado Board of Nursing, at their Pueblo, Colorado campus. IntelliTec College provides thorough, practical training to prepare students for entry-level positions as Nursing Assistants, and the program can be completed in as few as 4 weeks! Students at IntelliTec learn essential theory and critical skills using hands-on training and instruction so that students are able to practice in real life situations. Students learn:
Basic Nursing Skills- measuring vital signs, intake & output measurement, and proper hand washing

Client Interaction- how to interact with clients in a way that ensures emotional, social, and mental healthcare needs are met

Assisting clients in attaining and maintaining independence

CPR certification
The Nursing Assistant program at IntelliTec College is an ideal first step in a student's medical training, and may be especially helpful for students who plan to pursue certification as a Registered Nurse in the future.
If you are ready to take the next step towards beginning a rewarding new career as a Nursing Assistant, then don't wait any longer – call IntelliTec College today! Our friendly and helpful admissions representatives are always available to answer your questions, schedule you a tour of our Pueblo campus, or walk you through the application process. Give us a call, and get started with IntelliTec today!