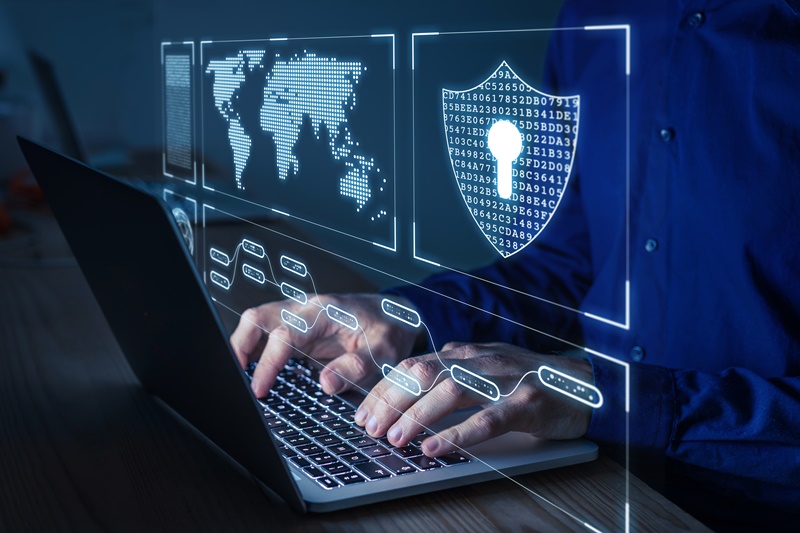 Are you interested in a career in a growing field? The information technology (IT) field is growing, and IT workers who are skilled in cybersecurity methods and practices are in particularly high demand. At IntelliTec College, we offer the training programs you need to join this growing field. Many of our IT programs incorporate aspects of cybersecurity into the curriculum and training, and all of IntelliTec's IT programs are designed to prepare students for industry-recognized CompTIA certifications, including the CompTIA Security+ certification. With IntelliTec's IT training programs, you can get the hands-on training, practical experience, and industry support you need to join the growing IT field of cybersecurity!
If you are interested in joining this growing field of IT cybersecurity, the CompTIA Security+ certification is both the starting point and the centerpiece for your cybersecurity career. This certification demonstrates that you have the foundational knowledge required of any cybersecurity role and provides a springboard to entry-level cybersecurity jobs. With performance-based questions, it emphasizes the hands-on practical skills used by junior IT auditors, systems administrators, network administrators, and security administrators. 
Employers from Fortune 500 companies to the U.S. government value CompTIA as an authority in cybersecurity certifications. These professional certifications are highly valued by employers, as they demonstrate to employers the level of your skills and training.  At IntelliTec College, we are a CompTIA Academy Partner, and we offer two IT programs. The Computer Systems Technician is a certificate program designed to be completed in 12 months, and the Computer Network Systems Technician which includes an extra certification and five general education courses is designed to be completed in 18 months. 
IntelliTec College's IT programs also include certification prep, on-site proctoring, and certification fees. 
Certification options in both programs include:
CompTIA's IT Fundamentals

CompTIA A+

CompTIA Network+

CompTIA Security+

CompTIA Linux+

CompTIA Server+

CompTIA Cloud+ (in the degree program only)
Additional Certification Options
Earning combinations of these certifications can help our graduates gain additional CompTIA certifications. In the CompTIA Infrastructure Career Pathway, students who earn their A+ and Network+ certifications are awarded the CompTIA IT Operations Specialist. Students who earn their A+ and Linux+ certifications can gain the CompTIA Systems Support Specialist and students who become certified in Network+ and Linux+ will gain the CompTIA Linux Network Professional. In the CompTIA Cybersecurity Career Pathway, students who earn their A+,  Network+, and Security+ certifications can also earn the CompTIA Secure Infrastructure Specialist.
In each of these programs, IntelliTec students learn the essentials of PC, network, and cybersecurity. Through hands-on instruction from experienced faculty, students learn the essential principles for network security and risk management. Hands-on experience and first-hand exposure to the IT industry enables students to be competent in performing network threat analysis, configuring network systems to secure applications, and understanding the policies and regulations around network security.
With training from IntelliTec College, you can gain the skills, certifications, and knowledge you need to be prepared for a career in the growing IT field of cybersecurity. With limited class sizes, personalized instruction, and hands-on training, you will gain the confidence to obtain professional certifications and enter the job market. Plus, IntelliTec's IT programs are designed to train you in a short amount of time, so you can get to work in your new career, sooner. If you are ready to launch your career in the growing IT cybersecurity field, don't wait any longer – contact IntelliTec College to learn more today! 
Make cybersecurity your career, with IT training from IntelliTec College!