IntelliTec's Hands-On MA Program is Achievable in Just 12 months!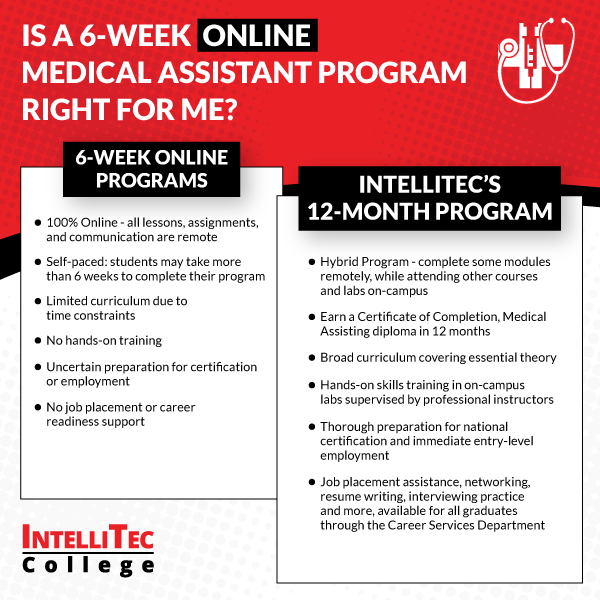 Are you considering pursuing a career as a Medical Assistant? Are you wondering whether a 6 week online program is right for you? If you are interested in a career as a Medical Assistant, IntelliTec College offers an excellent Medical Assistant program, which offers you flexible remote classroom work options paired with hands-on technical training under the supervision of experienced instructors. With training from IntelliTec, you'll get more than just an overview of basics delivered through a computer – you will gain the breadth of academic knowledge and practical skills you need, combined with the support of IntelliTec's Career Services Department, to immediately test for national certification and pursue employment in entry-level positions. If you're looking for a rewarding career in the healthcare field, you don't want to take a shortcut. Don't waste your time with questionable 6 week online programs; train to be a Medical Assistant in as few as 12 months, with IntelliTec, an ACCSC-accredited institution you can trust. When you are ready to get started, Admissions Representatives are standing by to help you enroll!
| | |
| --- | --- |
| 6-week Online Programs | IntelliTec's 12-month Program |
| 100% Online – all lessons, assignments, and communication are remote | Hybrid Program – complete some modules remotely, while attending other courses and labs on-campus |
| Self-paced: students may take more than 6 weeks to complete their program | Earn a Certificate of Completion, Medical Assisting diploma in 12 months |
| Limited curriculum due to time constraints | Broad curriculum covering essential theory |
| No hands-on training | Hands-on skills training in on-campus labs supervised by professional instructors |
| Uncertain preparation for certification or employment | Thorough preparation for national certification and immediate entry-level employment |
| No job placement or career readiness support | Job placement assistance, networking, resume writing, interviewing practice and more, available for all graduates through the Career Services Department |
Medical Assistants work directly alongside doctors, physicians, and other medical providers to provide patients with the highest level of care. Medical Assistants work in physicians' offices, clinics, hospitals, private labs, nursing homes, and other healthcare facilities in every town, every city, and every part of the country. According to the U.S. Bureau of Labor and Statistics, employment for Medical Assistants is projected to grow 18 percent from 2020 to 2030, much faster than the average for all occupations. If you are looking for a healthcare career that is challenging, yet personally rewarding, and offers the opportunity for stable employment in a growing field, Medical Assisting could be a good choice for you. 
There is a significant amount of specialized technical skills and academic knowledge that is needed for a career as a Medical Assistant. If you are considering enrolling in a program that promises to train you in just weeks in a completely online program, it's important to evaluate if that program will offer you the comprehensive training you need to gain professional certification and entry-level employment in the field. While it is possible to teach some of the theory online – and IntelliTec's program offers students remote learning options for specific modules of the program – 100% online programs don't offer students the opportunity to gain critical hands-on skills in a professionally supervised lab. Can you really learn to give CPR or place an IV by watching a video online? In IntelliTec's on-campus labs, students practice completing critical clinical tasks and laboratory procedures under the supervision of experienced instructors. As a result, graduates of IntelliTec's program enter the job market with confidence in their skills, ready to hit the ground running in their new position. 
With IntelliTec's 12-month Medical Assistant program, you will learn the complete scope of skills needed to perform both administrative and clinical tasks in support of doctors and medical offices. Students in IntelliTec's Medical Assistant program learn:
Medical Terminology

Medical Office Procedures

Medical Records Keeping and Electronic Medical Records

Measuring Patient Vital Signs

Venipuncture and Injections

Use of Laboratory equipment, including centrifuges and autoclaves

Use of Electrocardiogram (EKG) equipment
With IntelliTec's comprehensive program, students learn to perform laboratory procedures, understand the anatomy and physiology of the human body, and assist physicians in medical office examinations. Students also learn to perform administrative duties such as maintaining patient files, scheduling appointments, billing insurance, and office management. Upon completion of the program, students will be confident in their skills as they enter the workforce prepared for entry-level positions. Graduates are also prepared to sit for the national AMT Registered Medical Assistant and Phlebotomist examinations for certification. Nationally-recognized industry certifications such as these demonstrate to potential employers your level of dedication, skill, and knowledge. Gaining these certifications typically requires more education and training than an online 6-week program can provide.
At Intellitec, you can not only gain the knowledge and skills you need to pursue a career as a Medical Assistant in just one year, you can also choose to take your education and training to the next level by pursuing an Associate's degree with IntelliTec's Healthcare Administration: Medical Assisting AOS degree program. Students in the AOS degree program complete 18 weeks of General Education courses, including Introduction to Business, Business Communications, and American Government. All General Education courses may be completed 100% online. The 90.5 credit hour program can be completed in just 18 months, and graduates receive a Healthcare Administration: Medical Assisting Associate of Occupational Studies degree. Earning an Associate's degree demonstrates to employers that you are ready for a higher level of supervisory and management responsibility; it can also make you a more appealing job candidate in a competitive job market. 
Upon completion of their Medical Assistant program, IntellITec graduates enter the job market with confidence, backed by the support of IntelliTec's Career Services Department. IntelliTec's Career Services Department offers a wide range of student support and career placement services to help graduates take that next step towards a better future. The Career Services department provides students with a wide range of career support services, including resume writing assistance, job searching and networking, interviewing skills, and comprehensive job placement assistance. Online accelerated programs won't provide you with any of these supportive services. With IntelliTec's Medical Assistant program, graduates can gain the knowledge, skills, and support to confidently enter the job market.
If you are ready to begin your career as a Medical Assistant, you can get started right now with IntelliTec's training program! IntelliTec's Medical Assistant programs are enrolling now for programs starting January 10, 2022. Don't wonder whether a 6 week online program is right for you, IntelliTec's comprehensive Medical Assistant program offers you the convenience of online learning modules you want, paired with the supervised hands-on skills training you need. With convenient campus locations in Colorado Springs, Grand Junction, and Pueblo, Colorado, and Albuquerque, New Mexico, IntelliTec is designed for students just like you. Get started today on your new healthcare career as a Medical Assistant, with IntelliTec College! Admissions representatives are standing by to help you begin the enrollment process – classes are enrolling now, and begin January 10, 2022!  Click here to get started!