Train for this Essential Career with IntelliTec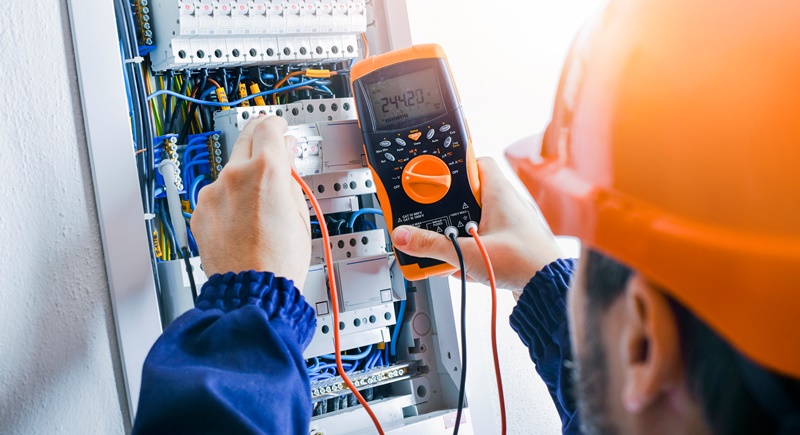 Did you know that there is projected to be a severe shortage of electricians in the United States by 2030? The gap between the number of electricians needed, and the number of qualified electricians in the workforce, is growing at a rapid rate and will continue unless there is a large uptick in the number of new, qualified electricians entering the market. In response to this demand, IntelliTec College has developed an Electrical Technician program, now available at the Pueblo and Colorado Springs campuses. With IntelliTec, you can train to become a certified electrician and enter this rewarding field in as few as 10.5 months! Courses for the new Electrical Technician Certification program begin January 11, 2021, and this program is enrolling now.
For over 50 years, IntelliTec's mission has been to train students for the jobs that are in high demand in their communities. Now more than ever before, there is a rising demand for skilled and qualified electrical technicians. Hand tools maker Klein Tools and consulting firm The Accelerate Group recently released a research report showing how the country's demand for electricians is now outpacing the current supply. The "Dark by 2050" report detailed severe shortages in the U.S. electrical workforce gap in the near- and long-term, concluding the U.S. must train between 107,000 and 224,000 new electrician and line worker apprentices between now and 2030 in order to meet the needs of our growing power infrastructure and expanding power grid.
The Electrical Technician program at IntelliTec is designed to help meet this growing demand. IntelliTec's 10.5- month Electrical Technician Certification program teaches students critical knowledge and hands-on skills, including how to: 
Connect wires to circuit breakers, transformers, or other components

Plan the layout and installation of electrical wiring, equipment, or fixtures based on job specifications and local codes

Inspect electrical systems, equipment, or components to identify hazards, defects, or the need for adjustment or repair, and to ensure compliance with codes. 

Use a variety of tools and equipment of the trade, including power construction equipment, measuring devices, power tools, and testing equipment, such as oscilloscopes, ammeters, or test lamps. 

Use testing devices such as ohmmeters, voltmeters, or oscilloscopes

Use specialized tools to test electrical systems or continuity or circuits in electrical wiring, equipment, or fixtures to ensure compatibility and safety of system 
Graduates of IntelliTec's program will receive their Electrical Technician Certificate, and will be prepared to register as an Electrical Apprentice. After completion of 4,000 hours of required work experience, graduates may sit for the Residential Wireman exam provided by the Division of Professions and Occupations Colorado Electrical Board. Graduates will be prepared to obtain job titles such as Electrical Technician, Electrical Repair Technician or Residential Wireman in the residential, commercial and construction industry.
The demand for electrical technicians is growing, and with IntelliTec, you can get the training you need to enter this rewarding field in as few as 10.5 months! No high school diploma? No problem – Learn more about IntelliTec's ECPP program, which allows you to complete your high school credits while working towards your IntelliTec certificate program. At IntelliTec, we are here to help you obtain your career goals – You can make it happen, with training from IntelliTec! Contact us today.