Get the Skills to Be a Professional Computer Systems Technician Albuquerque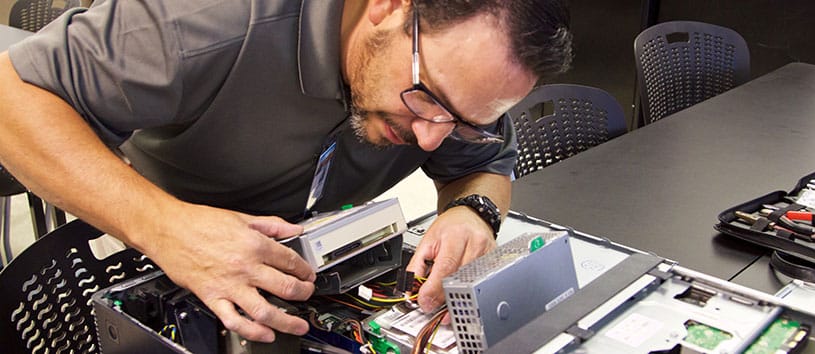 10.5 Month* Hands-On Computer Systems Technician Training Program in Albuquerque
Become the backbone of today's companies with IT training. Combine your people skills with your interest in computer technology to become a successful Computer Systems Technician. You will learn how to problem solve, evaluate network or system performance, and communicate clearly with other administrators and co-workers.
Next Start Date: Sep 27thComputer Systems Technician Albuquerque Intellitec College - Albuquerque 4575 San Mateo Blvd NE - Suite K Albuquerque NM USA 87109 Turn your passion for computers into a career in IT. With job-focused training at IntelliTec College, you can learn to set up and maintain networks and keep routers and servers functioning. Certificate program takes 10.5 months.https://intellitec.edu/wp-content/uploads/2019/06/computer-systems-hero.jpgIntellitec College
What Does a Computer Systems Technician Do?
A Computer Systems Technician (CST) is responsible for setting up Internet connections, establishing different types of networks like LAN (local area network) or WAN (wide area network) for bigger organizations and connecting them. CSTs are also responsible for establishing and keeping routers and servers functioning and continuing to provide support for the company. They ensure systems are functioning and when systems malfunction, they have to find solutions quickly without paralyzing the other computers and equipment in the network. They may also provide help and advice to people and organizations using computer software or equipment.
Computer Systems Technician Job Opportunities
Information Technology Associate
Help Desk Support Specialist
PC Support Technician or Specialist
Technical Field Support Specialist
Network Systems Administrator (junior level)
Computer Systems Administrator
Network Technician
Networking Administrator
Mobile Device Specialist
Information Security/Assurance Analyst (entry-level)
and more!
Computer Systems Technician Salary Potential
IntelliTec College provides career-training programs for entry-level positions. Salaries vary depending on geographic location, economic conditions, and willingness to relocate. Salaries by occupation and specific location can be found here. National figures for labor market activity, working conditions, and price changes in the economy are available here. You can also visit the campus career services department to learn where IntelliTec graduates work and the beginning salaries in their respective careers.
How Is the Job Outlook for the Next 10 Years?
According to the US Department of Labor, job opportunities for qualified applicants with computer and electronics familiarity and good troubleshooting skills will have the best opportunities as employers continue to have difficulty finding qualified technicians to install, maintain, and repair complex new systems.
When Do Computer Systems Technicians Usually Work?
Most workers have full-time work schedules; however, many do not work typical 9-to-5 jobs. Because computer support is important for businesses, many employees must be available 24 hours a day. As a result, working nights or weekends is likely.
Get All the Important Details
Computer Systems Technician Program Albuquerque
Upon successful completion of this certificate program, the graduate should possess skills and knowledge required for employment as an entry-level Information Technologist, functional in a wide array of technological environments, such as helpdesk technician, computer systems/desktop support technician, and network systems administrator at the junior level, in a variety of operating environments. Students will prepare for and take the CompTIA IT Fundamentals, A+ Certified Technician, Network+ Certified Professional and Security+ Certified Professional exams. Students will also prepare for and take the Microsoft Technology Associate — Server and Linux Essentials certifications.
Locations:
Program length: 10.5 Months
Through your course work at IntelliTec College, you will grow many vital skills that will help you thrive in the computer technology field. You will:
Take advantage of hands-on IT training in a computer lab from a CompTIA Authorized Academy
Receive entry-level IT skills and training to become part of an IT problem-solving department – or work individually for a smaller business
Complete courses aligned with industry-recognized certification objectives
Receive personalized instruction from qualified instructors centered on your success
Prepare to sit for CompTIA IT Fundamentals, CompTIA A+ Certified Technician, CompTIA Network+, Certified Professional, CompTIA Security+ Certified Professional, Microsoft Technology Associate – Server, and Linux Essentials exams while also earning your certificate
Computer Systems Technician Program Gainful Employment Disclosures: Colorado Springs | Albuquerque
Here's what will you learn in the Computer Systems Technician program:
Industry Partners

Is Hands-On Training for a Career as a Computer Systems Technician Right for You? Get More Info…
If you're interested in exploring whether IntelliTec College's training programs and career opportunities in the IT industry are right for you, fill out the form on this page to receive more information.
A helpful IntelliTec College Admissions Representative will be happy to answer any questions you have and can help with everything from determining the right career path for you to discussing financial aid options.
*Program length when completed in normal time.