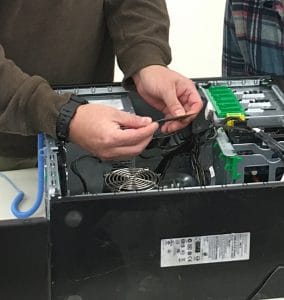 Employers in the Information Technology industry highly value educated, trained and skilled workers, but that alone will not get you hired in the Computer Technician field.
Rick Butler, the Computer Network Systems Technician Program Supervisor at IntelliTec College in Colorado Springs, shares the top 3 personal and professional traits that a computer technician needs to be successful in the computer technology industry.
Top 3 Personal and Professional Traits for Success as a Computer Technician
An uncommon passion for technology
A commitment to personal excellence
Natural researchers, analysts and problem-solvers
Trait #1 – A Great Computer Technician must have an "uncommon passion for technology".
"This goes beyond a passing fancy or flirtation with gadgetry. True IT professionals are successful at being able to connect technological solutions with service management and customer requirements. They recognize what customers need and want, create the solutions that provide those results and do it "right-sized" (not too expensive, not too cheap)." – Rick Butler
Employers want to see that you are interested in technology, not only in the field, but in your spare time. They want to know that you are eager to learn, to keep learning and to continually enhance your skills.
Trait #2 – A successful Computer Technician will demonstrate a "commitment to personal excellence".
"IT professionals are skilled in what they do, not because they have to be, but because they want to be. They are not slackers or have that "entitlement" mentality. They are willing to do what it takes to make sure the customer gets what they need/want, not what they assert on the customer. And they do it with the style of a rock star." – Rick Butler
It's not enough to want a career in technology; you have to make yourself vital to the industry. A commitment to excellence will show how dedicated you are and will allow you to prove your worth.
"Desire is the key to motivation, but it's determination and commitment to an unrelenting pursuit of your goal – a commitment to excellence – that will enable you to attain the success you seek."     – Mario Andretti
Trait #3 – Computer Technicians are "natural researchers, analysts and problem-solvers".
"There are many knots to untie in IT, and IT professionals are the ones that crave solving problems. They push hard to find an answer, particularly to questions that other people can't answer. They compete at it. Making things work and work well is what we IT professionals live for." – Rick Butler
Employers want to see that you are always searching for a solution to whatever problems may arise. They highly value technicians who not only fix problems, but who are constantly striving to improve system functionality.
In Summary
Begin your journey as a computer technician with a focus on your passion, commitment and natural abilities toward technology. Once you know you have the personal traits you need to succeed in the IT industry, go get your training and education. One of the most practical ways to go about receiving your training is through a technical school that offers a caring staff and personalized, hands-on training like IntelliTec College in Colorado Springs.
About IntelliTec College
IntelliTec College in Colorado Springs offers hands-on career training in the automotive, computer, HVAC, medical and personal training fields with associate degree (occupational) programs. In the Computer Network Systems Technician program, students receive entry level IT training in a hands-on, real-world environment, while earning an Associate of Occupational Studies Degree in only 18 months. Request more information at www.IntelliTec.edu or call 719-373-1690.
Sources
Rick A. Butler, MSM – Program Supervisor, Computer Technology at IntelliTec Colleges in Colorado Springs – 2315 E Pikes Peak Ave, Colorado Springs, CO 80909. Interviewed on January 16, 2015.
"Excellence Quotes." BrainyQuote. Xplore, n.d. Web. 5 Mar. 2015. http://www.brainyquote.com/quotes/keywords/excellence.html
"Computer & Network Systems Technician Training." IntelliTec College Colorado Springs. IntelliTec College, n.d. Web. 2 Feb. 2015. https://intellitec.edu/career-training-programs/technical-trades/computer-network-technician.php