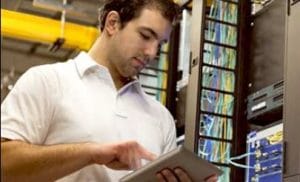 Are you a computer technician, working to become one or thinking of pursuing computer technician training? If so, you should look into becoming a member of the Association for Computer Machinery (ACM). The benefits of being a part of this organization are immense.
This article will cover:
What is the Association for Computer Machinery?
Learn the Benefits of an ACM Membership
Find Out How You Can Become an ACM Member
What is the Association for Computer Machinery?
The Association of Computer Machinery (ACM) is one of the largest educational and scientific computing societies. They are dedicated to the advancement of computing as a science and a profession. ACM provides a premier digital library, leading-edge publications, conferences and career resources.
All ACM Members must dedicate themselves to the ACM purpose (List from www.acm.org):
Advancing the art, science, engineering, and application of information technology
Fostering the open interchange of information to serve both professionals and the public; and
Promoting the highest professional and ethical standards.
Learn the Benefits of an ACM Membership
There are a plethora of benefits that come along with being a member of the Association of Computer Machinery. Being part of a large community of technical professionals is one of the most important aspects of this society. It allows for like-minded individuals to come together for a common goal.
The Computer Network Systems Technician program instructor at IntelliTec College in Colorado Springs and ACM liaison, Mr. Adrian Silvia-Flosi, has provided a list consisting of what he considers to be some of the best benefits of being an ACM member:
Gain real world work experience though working on computers from the community.
Enhance knowledge of topics covered in class by utilizing the skills in real situations with real clients and projects.
Strengthening team work abilities by working closely with other students to achieve a goal.
Participate in student activities such as game days, lunch meetings and weekend community events.
Gain a wider vision of the industry by talking to representatives from key companies like AMD, Intel, and NVidia.
Have access to the industry Periodical and ACM library
In addition to the aforementioned benefits, members of the ACM also gain timely access to relevant information through:
The ACM Digital Library
A full year (12 issues) electronic subscription to Communications of the ACM
A full-year (4 issues) subscription to XRDS: Crossroads
Complimentary e-mentoring services from MentorNet 
A full-year electronic subscription to monthly MemberNet and quarterly Student Quick Takes
A full-year subscription to TechNews
A full-year subscription to CareerNews
Acmqueue website
Access to Ubiquity and eLearn
Discounts on subscriptions to ACM journals, magazines, books, and conferences
A free email forwarding address with spam filtering
Special Discounts and access to valuable products and services through ACM's Insurance and Discounts and Special Offers Programs
Free access to software and courseware through the ACM Student Academic Initiative
Members can also take advantage of the vast array of networking opportunities that being a part of ACM garners.
Over 100,000 highly dedicated student and professional peers
ACM's Career & Job Center
The opportunity to join one or more of ACM's Special Interest Groups in 37 specialty areas of IT
The opportunity to join one of more than 500 ACM Student Chapters worldwide
Unique volunteering opportunities to gain hands-on experience and knowledge of the marketplace
(Access to relevant information and networking opportunities lists from www.acm.org)
Find Out How You Can Become an ACM Member
It takes less than 5 minutes to become a member of ACM and it's as easy of logging onto your computer.
Simply go to http://www.acm.org/.
Click on membership and then student membership.
Choose from 4 student memberships.
Fill out the form and pay the fee (from $19, $42 or $62).
And voila! Now you can start to enjoy all the awesome benefits of an ACM membership.
Sources
"Student Membership." Association for Computing Machinery. ACM, Inc., n.d. Web. 30 Apr. 2015. http://www.acm.org/membership/student/student-toc.
Adrian Silvia-Flosi IntelliTec, Computer Network Systems Technician Program Supervisor, IntelliTec College in Colorado Springs, 719-373-1690. https://intellitec.edu/career-training-programs/technical-trades/computer-network-technician.php.