Get the Skills to Be a Professional Dental Assistant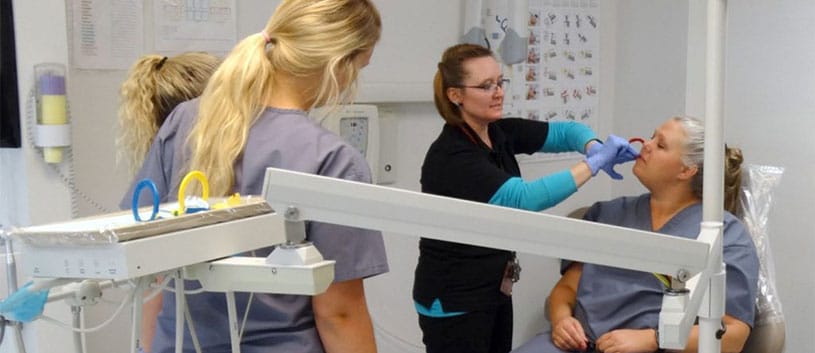 10.5 Month* Hands-On Dental Assistant Program in Grand Junction
It's generally believed that we only get one chance to make a good first impression. A person's smile will often define how they are perceived long after that first encounter.
In fact, about 45% of survey participants agree that a smile is the most attractive feature, regardless of age. A new study by the American Academy of Cosmetic Dentistry (AACD) finds that a great smile can be our strongest asset and goes a long way in making an incredible first impression.
If your goal is to help provide a winning smile and healthy teeth for dental patients, let us provide the education and skills to attain that goal with IntelliTec Grand Junction's 10.5-month* Dental Assistant training program.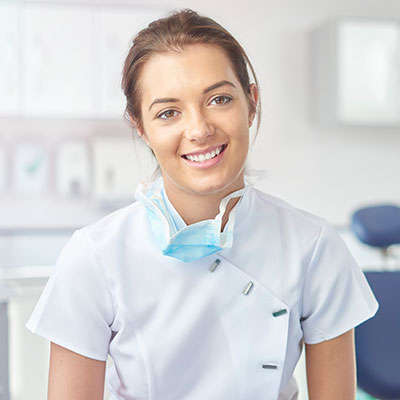 Dental Assistant
$41,900 median annual salary***
22% Job Growth Over Next 10 Years
Graduates hired by dental offices, hospitals, & public health centres
4 Certification Tracks (Including Radiology, Anatomy & Physiology)
Advance into a Dental Hygienist, Dental Lab Tech, Dentist and much more!
*** https://www.onetonline.org/link/localwages/31-9091.00?st=CO&g=Go visited on November 26, 2020. Salary source for dental assistants in Colorado with lowest 10% earning $30,020 to the highest 10% of workers earning $56,040.
What Does a Dental Assistant Do?
Dental Assistants perform tasks that range from patient care and taking x-rays to record keeping and scheduling appointments. Some duties vary by state and by the dentist's offices where they work. Typically, assistants may prepare patients and work areas for treatments, help dentists handle instruments, and instruct patients on oral hygiene.
Grand Junction Dental Assistant Job Opportunities
Dental offices & hospital clinics
Dental laboratories
Dental equipment & product sales
Dental insurance companies
Dental educators
and more!
I have been able to develop skills I never knew I would be capable of achieving. I actually want and am excited for my future.
This fun, online quiz takes 3-minutes to complete and you'll get a personalized report. Identify your strengths and social style plus the training and positions you're best suited for. Get Your Career Training Readiness score now.
Dental Assistant Salary Potential
IntelliTec Grand Junction provides career-training programs for entry-level positions. Salaries vary depending on geographic location, economic conditions, and willingness to relocate. Salaries by occupation and specific location can be found on the O*NET website. National figures for labor market activity, working conditions, and price changes in the economy are available from the Bureau of Labor Statistics. You can also visit the campus career services department to learn where IntelliTec College graduates work and the beginning salaries in their respective careers.
How Is the Job Outlook for the Next 10 Years?
According to the US Department of Labor, job opportunities are expected to be good with ongoing research linking oral health and general health increasing the demand for preventive dental services. Dentists will continue to hire more dental assistants to complete routine tasks, allowing the dentist to see more patients in their practice and to spend their time on more complex procedures.
When Do Dental Assistants Usually Work?
Most dental assistants work full time; however, nearly 1 in 3 assistants worked part time in 2014. Some may work evenings or weekends.
Get All the Important Details
Dental Assistant Program in Grand Junction
Graduates will have developed skills in a hands-on learning environment to function effectively as an integral member of a dental health team. Graduates will be prepared to function as an entry level dental assistant, and assume the responsibilities of performing chairside assisting procedures, maintaining and supplying clinical areas, scheduling patient appointments, maintaining patient charts and records, producing dental radiographs of diagnostic quality, as well as positioning and preparing patients for treatment or surgery. The graduate will be prepared to sit for the National Entry Level Dental Assistant (NELDA) exam.
Location:
Program length: 10.5 Months*
Skills students learn in the classroom and in our modern clinical setting during practical laboratory hours include:
Chairside assisting including patient positioning, instrument usage, and anesthetics
Office administration including billing and coding, dental charting, and management software
Dental radiography practices of processing, mounting and safety procedures
Specialized applications such as periodontics, implants, and pharmacology
Recognition of dental materials such as composites, amalgam and bases and liners
Additionally, dental assistant students gain experience by providing dental services to the community in
Grand Junction. Call (970) 245-8101 between Monday-Thursday, 8 a.m. to 1 p.m. to schedule an appointment today.
Dental services include:
Coronal Polishes
Impression for Mouth Guards
Impression for Bleach Trays
Full Mouth & Panoramic X-rays
Jewel bonding
Some services may incur a fee. Please ask about the cost of your service when you set your appointment time.
Dental Assistant Program Gainful Employment Disclosures: Grand Junction
Here's what will you learn in the Grand Junction Dental Assistant program:
Externships
The Grand Junction Dental Assistant Certificate program includes an externship at an approved outside facility to provide the student with supervised on-the-job training and the opportunity to practice skills learned throughout the program and gain specialized knowledge of individual skills.
Dental Industry Certifications
Students may receive the opportunity to sit for the following certifications:
National Entry Level Dental Assistant Exam through the Dental Assistant National Board (DANB)
Infection Control
Radiology
Anatomy & Physiology
After Graduation
Your training at IntelliTec College in Grand Junction will prepare you for the Dental Assisting National Board (DANB) exam. Please note that 3500 hours of general chairside office training is required before taking the exam.
Is Hands-On Training for a Career as a Dental Assistant in Grand Junction Right for You? Get More Info…
If you're interested in exploring whether IntelliTec Grand Junction's educational training programs for career opportunities in that field are right for you, fill out the form on this page to receive more information.
A helpful IntelliTec College Admissions Representative will be happy to answer any questions you have about IntelliTec Grand Junction and can help with everything from determining the right career path for you to discussing financial aid options.
*Program length when completed in normal time.