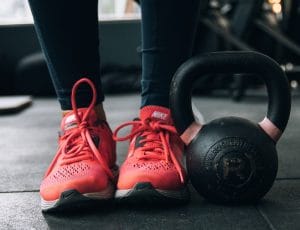 One of the most common resolutions in the new year for many people is to lose weight, get in shape, and feel better. This time of year becomes increasingly busy for one industry: personal trainers.
Along with New Year's resolutions, many people seek personal trainers year-round for various reasons. Some people need a professional to help them stay in shape, while paying attention to previous injuries. Some athletes may need a trainer's expertise to train and maintain a competitive edge. Others may just need a friend who can keep their exercise fresh and interesting throughout the year.
A personal trainer is someone who has the ability to care for others, while also pushing them to be better and achieve more. Often, personal trainers are outgoing, caring, and encouraging people who want to use their skills to make life better for others. But, you may wonder: what do personal trainers do, and how do they make a career out of fitness?
What Do Personal Trainers Do?
Personal trainers are professionals who are skilled in promoting physical health and well-being through customized exercise regimens and suggested diet tips.
Whether helping a client train for a marathon or simply lose a few extra pounds, the role of a personal trainer is to help set goals and create a realistic path towards achieving them. A personal trainer can have clients with a wide variety of needs, and it is important for them to understand the human body, diseases, and injuries to make the best impact for their clients.
Personal trainers also work in all sorts of settings, making it possible to find work that is truly your niche. While most people immediately picture personal trainers in gym settings, personal trainers also work in hospitals, studios, country clubs, universities, company offices, and even in a client's home or their own home gym.
Being a personal trainer means flexibility – in more ways than one! Each day brings a new challenge and exciting opportunity to improve someone's overall health and happiness.
Why Become a Personal Trainer?
Training to become a personal trainer certainly takes a lot of work. Our program, located at our Colorado Springs campus, is an 18-month associate of occupational studies degree program. Earning your degree as a personal trainer equips you with the knowledge and skills needed to begin a career in this exciting line of work.
Upon completion of your degree, you will be more than ready to take any personal training certifications, which will give you an added competitive edge as you begin your job hunt.
While it is hard work, the benefits are just as valuable and rewarding in the end. Below, we have outlined 5 reasons why becoming a personal trainer is a great step for you:
Help Others Achieve Goals
Are you known among your friends as a friendly, optimistic person? Are you a planner who thinks making goals and measuring success is important?
Being a personal trainer does all of these things and more. Since, sometimes, getting in shape is really hard work, you have to possess a great personality and ability to encourage clients to stick to their goals.
Along with being fun to be around, you also have to know how to push people to be their best and to get incrementally better over time. A personal trainer's ability to define and measure success – whether it is in weight lost, muscle gained, flexibility improved, pain decreased, or health changed – keeps clients on track and their goals attainable.
Help Others Feel Their Best
More and more, people across the country are finding themselves diagnosed with a range of health problems, from diabetes to cardiac disease to obesity. Our busy lifestyles can prevent us from getting the exercise and nutrition we need.
Additionally, the generation of the "baby boomers" means we have the largest influx of older people in our population than ever before. The demand for staying healthy and moving is greater for this group of people than ever before.
Especially for older people or those with health challenges, exercise provides the opportunity to feel better, more youthful, and like their old self. With regular personal training sessions, clients become stronger and rely on your expertise more for their health and wellness needs.
Understand the Human Body
Personal trainers are not those who just hit the gym each day; rather, personal trainers must have a larger sense of how the human body works. This means understanding how muscles work together, how heart rate levels impact the body, the relevance of weight and body mass index, and so much more.
Not only do personal trainers understand how the body works in a gym setting, but they also have a greater sense of how to treat the body when you are not exercising. Rest and feeding your body are just as important for reaching goals.
For clients who have specific needs, such as those in a hospital or older people, personal trainers have to know medical conditions that can affect performance. For instance, a personal trainer would not order someone with a bad hip to run on the treadmill. Or, a personal trainer might suggest some exercises to get heart rate up for those seeking to lose weight.
Understanding how the human body works and what type of exercise will have the most impact makes personal trainers more qualified to suggest routines that improve lives.
Learn How to Blend Nutrition and Fitness
As mentioned above, personal trainers do not just rely on workouts alone. It is well understood in the exercise and medical world today that nutrition is just as important as exercise when it comes to achieving health and weight goals.
By suggesting healthy diet tips to clients, personal trainers can coach others on how to clean up their diet and make small steps towards success. For instance, if a client gets fast food most nights of the week, a personal trainer can challenge them to cut back and begin cooking at home.
Small encouragements from a trainer can help a person find new ways to enjoy life, through cooking, trying new foods, and making recipes that their entire family will love. Personal trainers can talk about the importance of introducing vegetables, lean protein, and smaller portions into a diet.
Usually, personal trainers benefit from working alongside other professionals, such as dieticians, who can recommend meal plans for clients as part of a holistic approach to health. Many hospitals, universities, retirement homes, and other settings view exercise and diet as two necessary components to living well.
Stay Fit
While there is the important work of helping others achieve goals, there is one slight advantage to being a personal trainer: you stay in shape, too!
Doing workouts you love each day, alongside people seeking your help, allows you to continue to grow stronger and be a great resource for those who need your expertise. The more you are able to experiment with different exercises, equipment, and techniques, the better prepared you are to help a client through tough workouts.
Improve your own health and wellness by being a strong example – as a personal trainer!
Become a Personal Trainer with IntelliTec College
Ready to get started on a career that will benefit the health of you and others for years to come? Consider becoming a personal trainer.
Our next program start date is February 20, at our Colorado Springs campus. For a career that gives you flexibility to work in a variety of work environments, along with a greater understanding of human health, personal training could be a great fit for you.