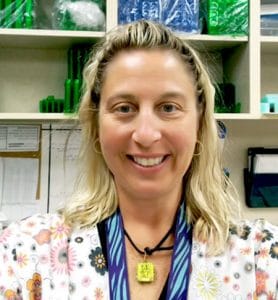 After Years of Dead-End Jobs, IntelliTec Pharmacy Technician Graduate Gains a New Lease on Life With a Degree Offering Exciting Opportunities
It is never easy to make a complete life change, but to do so with little knowledge of what the future may hold is a whole other story.
Natalie Huber signed up for pharmacy technician classes at IntelliTec College in Grand Junction with "zero knowledge" about a career in pharmacy. However, she knew one thing: she wanted a job that was not dependent on the ups and downs of the economy.
"A huge challenge for me was that when I started taking courses I knew nothing about the pharmacy world. But I hit the ground running by studying hard to make my dream come true. Pair that with excellent teaching and courses geared toward bringing a student up to standards in the pharmacology field, and you can see how IntelliTec worked for me," says Huber.
Carving Out Study Time is Key to School Success
Huber worked part-time at Safeway in the evenings in order to focus on school and raising her children during the day. Finding time to study meant tackling the books in the very early morning hours.
With the burden of housing costs relieved (her boyfriend let Huber and her children share a home rent-free), she made school a priority.
"Going back to school was my #1 focus [besides my children]. I had to find time to study, even if it was 3:00 or 4:00 in the morning. I tell people who are thinking about going back to school to enjoy the time while learning because it goes by quickly. The late study nights and long days may seem challenging, but if you want it badly enough you can do anything," says Huber.
Sometimes Your Future is Yet to Be Imagined
The pharmacy technician externship not only allowed Huber to practice her skills on-the-job, it helped land her a job once she completed it. She externed at Montrose Memorial Hospital, and they hired her once she finished her externship hours.
"A year ago I had no idea I'd land my dream job. I didn't even know what my dream job was then, and now I'm right where I want to be: working directly with patients when they are admitted to the hospital. I'm so excited to be part of this constantly growing career with opportunities," exclaims Huber.