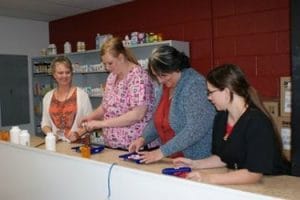 Press Release – For Immediate Release
Grand Junction, Colorado – Aspiring Pharmacy Technicians can now receive dedicated training at IntelliTec College in Grand Junction. The new Pharmacy Technician training program is a Professional Certificate program designed to be completed in only 9 months. Students will train using clinical lab equipment in a real-world pharmacy setting, while preparing to sit for industry certification exams.
According to the U.S. Bureau of Labor Statistics, "Employment of pharmacy technicians is projected to grow 20 percent from 2012 to 2022, faster than the average for all occupations." Pharmacy technicians work in drug stores, grocery stores, hospitals, long-term and managed care facilities, mail order pharmacies and insurance companies.
The role of a pharmacy technician is expanding, and due to this expansion, the need for educated technicians has never been higher. There are currently opportunities for entry-level pharmacy technicians around Colorado. Employers value educated and experienced technicians. Previously trained technicians can go right to work without the employers having to provide on-the-job training, like it has been done in the past.
"There are no other programs of this kind in Western Colorado, yet there is a growing demand for pharmacy technicians in our area," says Pharmacy Technician Program Supervisor Allison McKissen.
Graduates of the program are ready to assume all responsibilities of an entry-level pharmacy technician. They will learn specific skills including: preparing prescription orders under the supervision of a licensed pharmacist, operating computer and automation systems and communicating effectively in a professional manner with patients and healthcare professionals.
Students will use clinical laboratory equipment, such as a laminar flow hood, medication-dispensing machine, automatic syringe filling pump and mock medications for an optimal learning experience.
Upon completion of the program, technicians will be prepared to sit for the Pharmacy Technician Certification Exam (PTCE) through the Pharmacy Technician Certification Board (PTCB).
McKissen explains, "IntelliTec's instructors are subject matter experts in their program because they are experienced in the field. They are very familiar with the work skills needed to be successful in their careers, so our students are not only gaining textbook knowledge from their instructors, they are gaining practical knowledge." She has over 20 years of experience as a pharmacy technician and has been PTCB certified since 1998. She also has a BS in Biology from Colorado Mesa University, with an emphasis on pre-med/pre-pharmacy.
McKissen adds, "We not only offer hands-on training from instructors that are specialized in their fields, we also have a tremendous student support network that assists students in meeting their education goals in order to move forward on their desired path to career success."
IntelliTec College in Grand Junction offers hands-on career training for automotive, business, cosmetology, dental, medical and massage with associate degree (occupational) and professional certificate programs. For more information, visit them online at www.IntelliTec.edu or call 970-245-8101.
CONTACT:
Allison McKissen
IntelliTec College in Grand Junction
amckissen@intellitec.edu
970-245-8101
###